For a car that sells every 2 minutes, the Maruti Suzuki Alto is no amateur when it comes to breaking sales records. It has been the bestselling car in India since the Maruti 800 forfeited that title after its parents declared it was too old for it to continue competing everywhere. Our liking for the Alto even made it the best selling hatchback of the world in 2010. And it has done it again!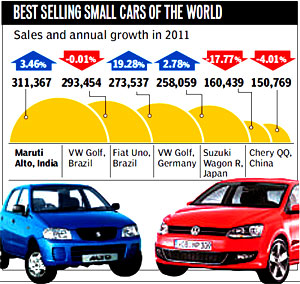 The Maruti Suzuki Alto outpaced the likes of VW Gol and Fiat Uno to become the bestselling car of the world for the second time in a row. The Alto sold over 300,000 units followed by VW Gol in Brazil at 293,454 units, Fiat Uno (Brazil) at 273,537 units and VW Golf in Germany at 258,059 units. Another gem from Suzuki's stable – Wagon R completed the top 5 best selling cars of the world.
However, there is a twist in this story. Although Alto bagged the best selling title, its growth rate is losing steam as time progresses. The fastest growth rate was demonstrated by Fiat Uno in Brazil.
There could be various factors that have taken a toll of the growth rate such as market slowdown, rising petrol prices, launch of the Hyundai EON, etc. With the entry of new players in the small car segment such as Nissan and Fiat, the situation is not going to improve for Maruti.
Do you think the Alto can sustain the growth for the third time in the row this year?
[Source: HindustanTimes.com]