These photographs, courtesy of Team-BHP member ManderMax, show the Volkswagen Up! testing on Pune streets without bothering about camouflage or pictures taken of them.
VW India senior officials have told the media in the past that the Up! is still on the decision table and by December 2012, the feasibility studies would be complete.
The Up! is the German brand's sub-Polo model and tentatively it competes with the Hyundai i10, Honda Brio and Maruti Wagon R. Two models are seen testing here. The first is a five-door variant with manually operated windows and light beige interior. The second test mule is a three-door with a similar description.
Volkswagen can help themselves sell an extra 5-7k units every month with the Up! if they can offer these two features
A compact diesel engine with 23-25 kmpl
Priced to compete with equivalent models from Maruti and Hyundai
Volkswagen started off well in India with its Polo and Vento models, but in 2012 sales have started to slip and slide. The media has been reporting that many officials, particularly in the marketing division, are putting in their papers in the light of dull sales. From what we read and hear, there are no negative perceptions on Volkswagen's products, and much of the blame is on the market environment or conditions which has affected all brands.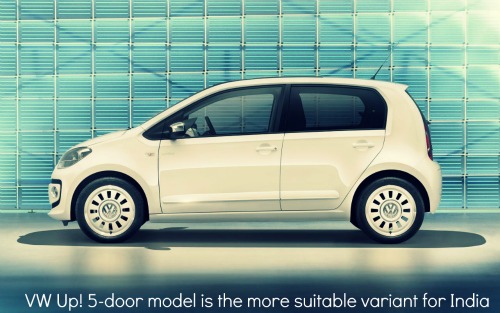 The VW Up! is powered by a 1-liter petrol engine, but if the existing market situation prevails, that engine cannot help Volkswagen shift any significant volumes. The key is to provide the Up! with a diesel engine. It could either be the de-tuned 1.2L 3cyl mill performing duties on the Polo or a new powertrain in a smaller displacement.
Volkswagen India could strike a comeback with the Up!, but the challenge is offering the kind of build quality we see in these photographs at the price of a Hyundai i10 or Maruti Wagon R.
[Source - Team-BHP.com]