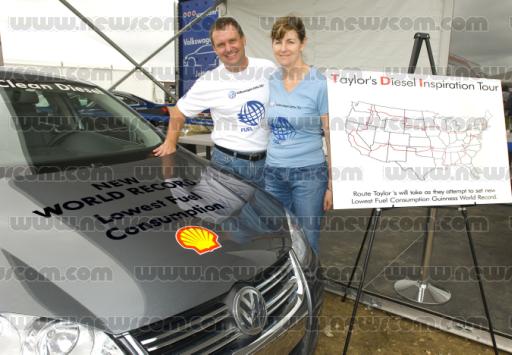 The VW Jetta has just been launched in India and many feel that it is being outclassed by its cousin, the European Octavia/Indian Laura, but there seems to be one more strong reason to buy that Jetta over others. The VW Jetta TDI has accomplished a new world record by delivering 26Kmpl. This is more  impressive when you consider the fact that it was driven under hugely varying conditions in the US of A. An incredible achievement!
The world's most fuel efficient couple, John and Helen Taylor, have broken the current world record for lowest fuel consumption across the 48 contiguous United States averaging 26kmpl. They ended their 20 day trip in West Virginia on Thursday, Sept. 25, 2008. To help them break the world record, they drove the all-new, 50-state-compliant clean diesel Volkswagen Jetta TDI, fueled by Shell Ultra Low Sulfur diesel fuel under real world driving conditions, simply applying easy to use fuel saving tips and the latest efficient engine technology available for good clean diesel fun.
"We are very excited and grateful to have broken the current Guinness World Record for lowest fuel consumption across the 48 contiguous United States," said Helen Taylor. "We would like to thank Volkswagen for providing us their new clean diesel Jetta that helped us get another World Record and to Shell for supplying the diesel fuel."
Anyone can achieve these figures. All you need is practice and adherence to Taylor's tips.
IAB
Source : German Car Blog