German publication Auto Week has managed to get a hold of a teaser image of the Volvo XC40. The image shows the tail section of the upcoming SUV and reveals the tail lamp profile and detailing. The image was accidentally leaked by Volvo Germany's Instagram account. It was eventually taken down, not before viewers took screenshots of it.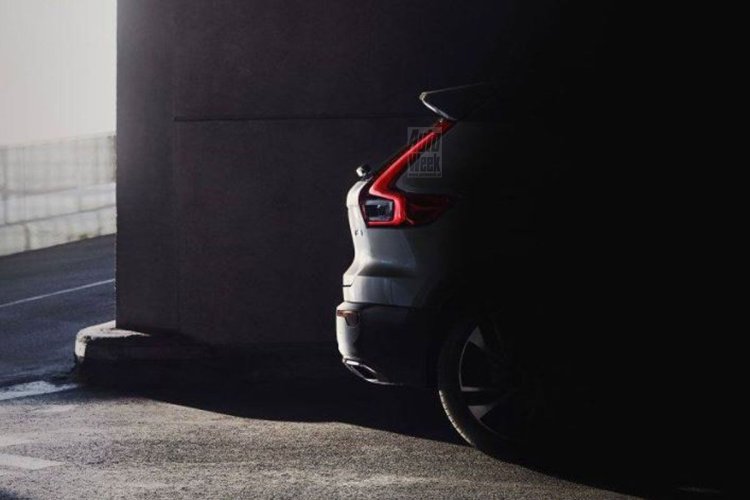 The image reveals a typically Volvo rear end with the tail lamp stretching to the roof. It has a steeply raked rear windshield with the rest of the boot section angled slightly inwards instead of sitting vertically. Other features visible are chrome exhaust tip, rear windshield wiper, roof spoiler and dual tone split spoke alloys. Volvo has said that the production ready XC40 will be "very close" to the design to the 40.1 concept.
The XC40 is based on the Volvo 40.1 concept unveiled at an event in Gothenburg, Sweden in May 2016. It is Volvo's first 40-series SUV and will rival the BMW X1, Mercedes-Benz GLA, and the Audi Q3. It will be based on the new CMA (Compact Modular Architecture) platform co-developed with Geely.
Volvo will offer the XC40 with the new 1.5 L three-cylinder and 2.0 L four-cylinder petrol and diesel engines. The T5 Twin Engine petrol-electric plug-in hybrid powertrain will sit at the top of the Volvo XC40 variant lineup. It consists of an 180 bhp 1.5-litre three-cylinder petrol engine that works in conjunction with a 74 bhp electric motor. It will have a 7-speed dual-clutch automatic transmission and offer a pure electric driving range of 30 miles (48.28 km).
According to Volvo Cars R&D Senior Vice President Henrik Green, the Volvo XC40 will be launched in Autumn 2017. In India, expect the car to arrive sometime next year. Volvo might consider assembling the SUV in India as it has the potential to be the volume driver for the Swedish car maker. Before the XC40, Volvo India will launch the XC60 in India this year.
[source - Auto Week]