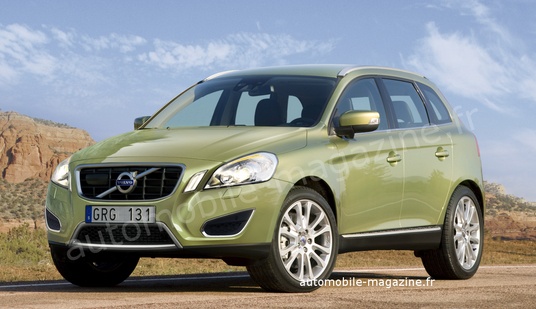 Like buying clothes small, medium, large SUVs are now available from brands who once used to think twice before making anything small. The appetite for crossovers, especially compact crossovers is catching up all over the world. People love the idea of driving a big car with the attributes such as fuel economy and maintenance similar to a small sedan or hatchback. The crossover provides the driver with an elevated seating position which inspires confidence. Female drivers are big fans of such cars.
The Volvo XC30 is one such vehicle in the new breed of compact crossovers. Measuring under 4.4 meters long (think Tata Indigo Manza) it will touch down in 2013. It will lock horns with the Mercedes GLC, Range Rover Evoque and Audi's Q3. Automobile Magazine France notes that both 2- and 4-wheel drive will be offered on the junior who is expected to be the safest of his crop.
The XC30 will share its platform with the V30, a compact five-door model halfway between wagon and sedan for 2013. A new generation of four-cylinder, single and dual turbo engines are in development producing between 150 to 310 hp. For China, an lengthened wheelbase version is also in the works.
Volvo India tells IAB that they have no hesitation in selling such a model in India once it is available internationally.
[Source - Automobile-magazine.fr]