click on the thumbnail to read the full story Volvo India, through new models and low price, is aiming to increase its market share in India and the V40 hatchback can be the most crucial model from that perspective. The new V40 is the compact car that's pitted against the new introductions - BMW 1 Series, Mercedes A-Class and the Audi A3.
Two out of these three cars are going to be seen for the first time at the Geneva Motor Show where Volvo will also drop the V40. Can the V40 find ways to rewrite the rules in the compact luxury market with its simple yet interesting design? What's not news is Hyundai working on an i20-size hatchback for the Brazilian market to form a new entry point. What's hot news is the Korean company is not putting a full stop there. The HB platform extends to to roll out a sedan (like the Verna) and a mini SUV (a la Duster) in the next two years.
2012 will be dedicated to the hatch after which the sedan and SUV could be launched in 2013 and 2014 respectively. Hyundai is reportedly trying out engines displacing 1.0-1.6 liters for the HB platform derivatives. These models are not expected to be built outside Brazil.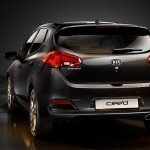 The Kia Cee'd is the Hyundai i30's distant cousin. The Cee'd, recognized widely for being the "reasonably priced car" on Top Gear UK,  is a C-Segment hatchback and with a complete redesign, it has plans to shake up the American market. Using design and the too-tempting-to-miss 7 year warranty in some markets, luring customers into showrooms is a game Kia is getting better at.
A more pointed "Tiger-nose" grille and more ergonomically designed cockpit are some of the interesting changes on the new Cee'd that lands at Geneva next month. With great design, ever improving quality and competitive pricing, the Cee'd could go a few steps forward and come dangerously close to grabbing customers of the i30!