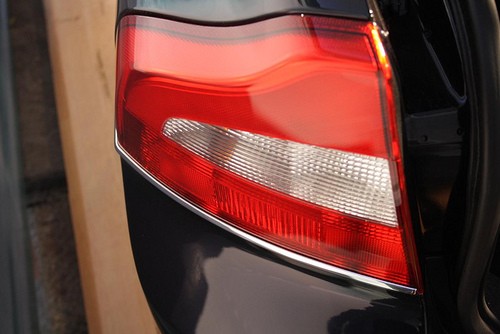 The new Volvo S80 D5 comes with free maintenance for up to 2 years/60,000 kms
The new and improved Volvo S80 diesel was launched today in a function held at the World Trade Centre, Mumbai. The new diesel S80 has a diesel particulate filter which its rivals don't. This ensures far less soot and carbon dioxide emissions to an extent that it is one of the most eco-friendly cars in its group.
The new S80 comes with a five cylinder 2.4-liter diesel engine offering 205 horsepower, 420Nm of torque and an ARAI certified fuel economy figure of 13.09kmpl.
There is no major differentiators externally, if you ask me. The S80 retains its stubby looks with hints of aggression and a dash of fun, especially at the rear. Addition of chrome to certain parts of the car makes it look more elegant in low light conditions.
Notable features on the new S80 are the cabin air filter, which is keeps in-cabin air dust and gas proof and suitable for patients suffering from asthma and the Dolby Pro Logic surround sound system delivers the best level of audio quality.
Notable differences on the new Volvo S80 D5
- New dual-turbo engine produces 11% more power, 5% more torque, 3% more fuel efficient, 3% less CO2, 8% quieter.
- More chrome, visible on the intake area, exhaust and under the tail lamp.
- New steering wheel
- Modified dashboard centre console
- Dual DVD screen for rear passengers
- Satellite Navigation
- Reverse guide camera
Volvo S80 D5 live shots
If you can't view the slideshow above, visit the Volvo S80 D5 Image Gallery directly
Volvo S80 D5 Official Image Gallery
unable to view the slideshow above? visit the Official Volvo S80 D5 Image Gallery
Press Release
The New Volvo S80 - first class exclusiveness and driving properties

High-performance, twin-turbo Diesel with 205 hp and 420 Nm of torque

Priced competitively at Rs. 38.79 lakhs (Ex-showroom Mumbai) & Rs. 37 lakhs (Ex-showroom Delhi)

Mumbai, February 03, 2010: Volvo has made a fast start to the New Year by sharpening its diesel offering for the Indian market. The refreshed Volvo S80 for model year 2010 has an even tougher and exclusive design than before, while providing top-class fuel consumption and CO2 emissions, performance coupled with Volvo's signature safety features. The latest generation D5 Twin-Turbo diesel engine takes performance, fuel efficiency and refinement to entirely new levels. All this reinforces the model's position in the premium sedan segment and satisfies customers with high demands.

Delighted with the enhanced technology, Paul de Voijs, Managing Director, Volvo Auto India, said,

"Sometimes a subtle 'hum' is more powerful than a roar. With the new S80, we're placing the bar at the highest level when it comes to exclusiveness, quality and driving properties. Our mission was to develop a modern diesel engine – with the benefits that go with them – which also meets the emission EURO 5. This is yet another step in our determination to reduce the combustion engine's environmental impact, at the same time as we give customers a truly quiet and sophisticated engine with excellent performance. However, the refreshed S80 should not just be seen, it has to be experienced."

The D5 engine has several advanced technical features. With the latest Twin Turbo and Peizo high-pressure technology, the inspiring five-cylinder state -of-art will be high on performance and low on fuel consumption to a record low for a car in this class. A maintenance free diesel particulate filter effectively reduces soot particles in exhaust gases and advanced emission control contributes to low nitrogen oxide level – the new D5 already comply with stringent, upcoming Euro 5 exhaust emission requirements. Volvo is the only car company in India to offer the DPF feature across all its diesel models from the beginning of its operations in the country.

All-new five-cylinder diesel engine

The driving experience in the refreshed Volvo S80 has been elevated with an entirely new twin-turbo five-cylinder 2.4-litre diesel. The new D5 engine offers 205 horsepower, 420 Nm of torque over a very wide range of engine revs. The Fuel consumption and CO2 emission for the car stands at 13.1 kmpl and 203gms/km respectively - a record-low figure for a car of this size and performance level. This state-of-the-art engine delivers a plush drive.

Get the Volvo Advantage

Volvo, the luxury car brand in India provides you with the first of its kind service. Service your Volvo free of charge upto 2 years or 60,000 kms (whichever is earlier). The servicing takes care of all the consumables and schedules maintenances. It however does not include replacement of tyres. Volvo also gives 24x7 road assistance service to ensure that the journey is smooth and uninterrupted.

Design

With complete chrome detailing on the air intakes, lower part of the door moldings, exhaust and under the tail lamps, the exterior changes give the car a more distinctive, dynamic design and striking face. The interior design offers a distinctive blend of intelligent, elegant and unpretentious Scandinavian style characterized by clean surfaces, harmonious lines, exciting contrasts and smooth function for a dynamic and harmonious interior atmosphere.

Safety

An uncompromising ambition to both protect and celebrate life, being human in nature is what makes a Volvo, a Volvo.

Volvo Cars has a holistic approach to safety, which encompasses both preventive and protective safety. Distinctive features include:

* IDIS (Intelligent Driver Information System), that help the driver maintain better control over the traffic situation
* Personal Car Communicator (PCC) is an advanced control centre in pocket format.
* ABL – (Adaptive Brake light), which can sense the difference between normal and panic braking
* RAB- (Ready Alert Brakes), reduces the braking distance further when anticipates an emergency braking
* DSTC–(Dynamic Stability Traction Control) is stability control technology which helps prevent spinouts and roll overs.
* WHIPS – (Whiplash Protection System), which cradles the front seat occupants in a controlled manner to help prevent whiplash injuries.
* Like the rest of the Volvo range, the Volvo S80 features a transversely installed engine.

The environment and air quality

The Volvo S80 is built and equipped to impact as little as possible on the global environment, and to provide a clean and healthy in-car environment. Volvo IAQS (Interior Air Quality System) effectively reduces the amount of particles, pollen, gases and certain unpleasant odours in the air that enters the passenger compartment.