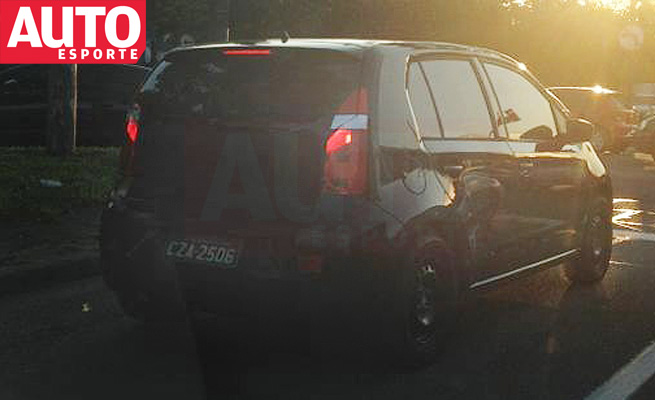 If you remember clearly, some test mules of the Volkswagen UP! were caught testing in Pune without camouflage. Similar test mules have been spotted seven seas across in Brazil at the same time. This should come as no surprise because most BRIC nations get similar products. However, Autoesporte has caught a test mule of the VW UP! in Brazil with some distinct changes.
Autoesporte reports that the German engineers are working on expanding dimensions of the UP!  Volkswagen will be increasing the space at the rear for the emerging markets. The UP! was introduced as a four seater in Europe. However, in emerging markets rear passenger space is a plus point if it can carry 3 people.
Volkswagen will increase the bootspace by moving the spare wheel below the body. The capacity of the fuel tank will also be increased. We expect the interior and exterior design to also go through some changes to make it cheaper to manufacture.
To be honest, this news should come as no surprise to you because the CEO of Volkswagen - Martin Winterkorn ordered its engineers to re-engineer a version of the Up! geared to the South American market that should arrive in 2013. The idea of a re-engineered Volkswagen UP! for emerging markets is to boost volumes so that VW group can achieve its target of 10 million units annually by 2018.
Volkswagen India has always conveyed that it is very keen to introduce the UP! in India. However, the final decision will be taken only by 2012 year end. VW India wants to grab the market share from the Hyundai i10, Maruti Suzuki Wagon R and Chevrolet Beat to become a dominant player in India. A re-engineered VW UP! will not only be cheaper to manufacture but can also be aggressively priced against the competition in a price sensitive market.
Sales of VW India have been pretty stagnant recently. However, the automaker will be pumping 2000 crores in the India operations mainly to ramp up capacities at the Pune and Aurangabad plants and towards product development. The re-engineered VW UP! might just be the answer to all Volkswagen's problems in India. Considering the testing has begun in India, we expect the UP! to be launched in late 2013 or possibly at the 2014 Auto Expo.
[Source: revistaautoesporte.globo.com]