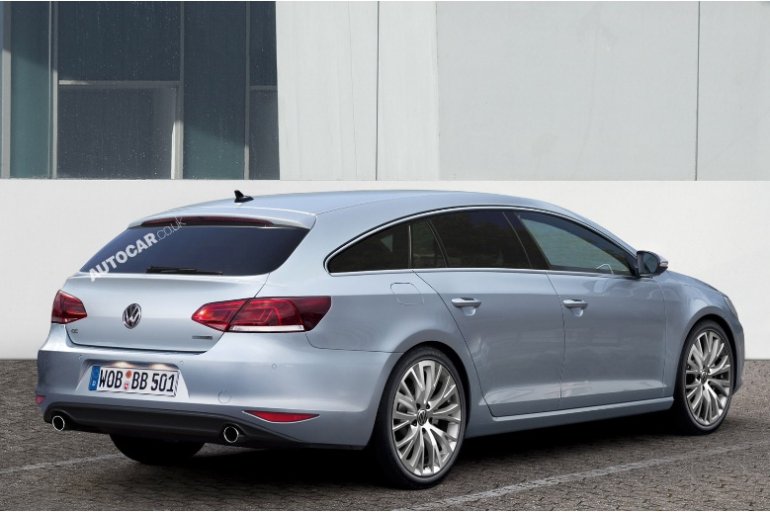 AutocarUK reports that Volkswagen is quite impressed with the Mercedes CLS Shooting Brake, so impressed that they have decided to create their own Shooting Brake model based on the Passat CC.
This is not the first time Volkswagen is blatantly copying Mercedes. Back in 2004, Mercedes introduced the CLS (a four-door coupe) in the German market. The Mercedes CLS was lauded by the motoring media for its sleek design and ample practicality. Volkswagen immediately responded with the Passat CC - a budget friendly alternative to the Mercedes CLS.
Mercedes brought out the second generation CLS in 2010 except this time they followed it with a Shooting Brake model (a glamorous station wagon). So the news that Volkswagen is interested in Passat CC Shooting Brake was expected.
However, the Shooting Brake model will not be based on the current generation Passat CC. Volkswagen plans to build it on the next generation of Passat CC scheduled for launch in early 2015. VW is planning to endow the Passat CC Shooting Brake with 570 litres of boot space, a curved roofline and an angled tailgate.
The next generation Passat CC will grow in size (and in price) to bridge the gap between the Passat and the Phaeton. As with most VW's, the new Passat CC Shooting Brake will be based on the MQB matrix using a range of transversely mounted four-cylinder petrol and diesel engines. A plug-in hybrid under the 'BlueMotion' badge is also likely.
The Shooting Brake will benefit from the latest Haldex 5 four wheel drive system but the buyer would be able to choose a FWD option as well.
There is a very good case for the Shooting Brake model globally. Most people across the world are rather bored with the typical hatchback, sedan, estate and SUV body style. They want something new and exciting in their garage.
BMW faced a similar situation when their 'Touring' models went out of fashion. The Bavarian automaker used to the 'Gran Turismo' (GT) models to keep the interest alive. GT models from BMW's portfolio offer the same practicality as Touring models but with a little more style.
Thus, we have no doubt that there is a strong market for the Passat CC Shooting Brake internationally, maybe not so much in India.
[Source: Autocar.co.uk]