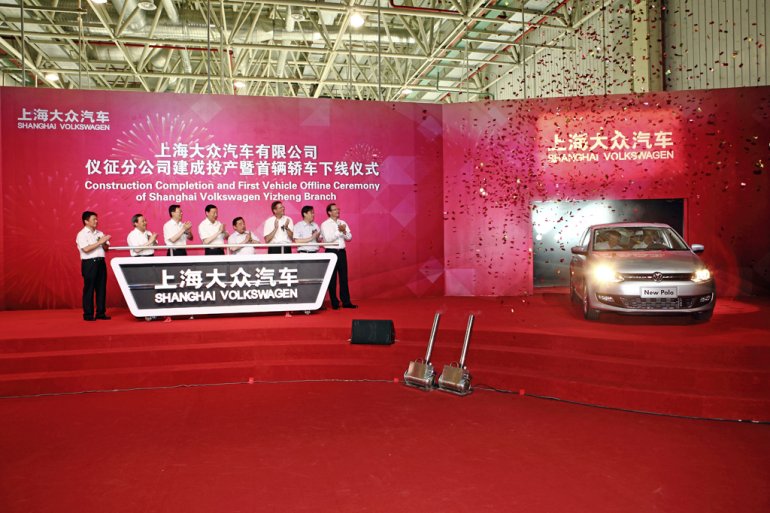 Volkswagen AG's Chinese arm Shanghai Volkswagen (SVW) opened a new plant in Yizheng, situated 300 km North-West of Shanghai. The plant creates job opportunities for around 3,700 people in the region.
The plant also boasts of a technical testing centre, an advanced training academy for employees and an energy centre, all enclosed within the 1.3 million square meter facility.
The plant currently manufactures the Volkswagen Polo with plans in the kitty for manufacturing Skoda models.
Earlier this year, Chinese media reports claimed the Skoda Rapid, customized to Chinese likes, is gearing up for a 2013 launch. We suspect this vehicle will be among the models that roll out of the Yizheng plant.
The best part of this plant lies in its use of energy resources. Volkswagen AG claims that this is one of their most environmentally compatible plants around the world. Solar panels, installed in the premises, are used to recharge the employee's e-bikes and transfer trucks.
The plant also uses the highest painting standards to maintain good air quality. Geothermal energy is used for cooling and heating of factory halls. Volkswagen aims to make their plants around the world 25% more sustainable and resource-efficient by 2018 by adopting some of the techniques used in Yizheng.
There are no questions raised on why Volkswagen has put up another plant in China as the region accounted for the company's highest sales in the world. In the first half of 2012 alone sales increased by more than 17%. Volkswagen AG will increase production by more than 4 million units by 2018.
[Source: Fastmotoring.com]