Riding the Khardung La Pass has always been a dream come true for the biking community. With an able product like TVS Scooty, scooter riders are now achieving feats that only riders with powerful bikes and off-road vehicles have been able to do with ease. The Scooty Zest 110 is the first scooter to conquer the Khardung La Pass in 2015 and TVS has repeated the feat with a group of adventurous women in 2016.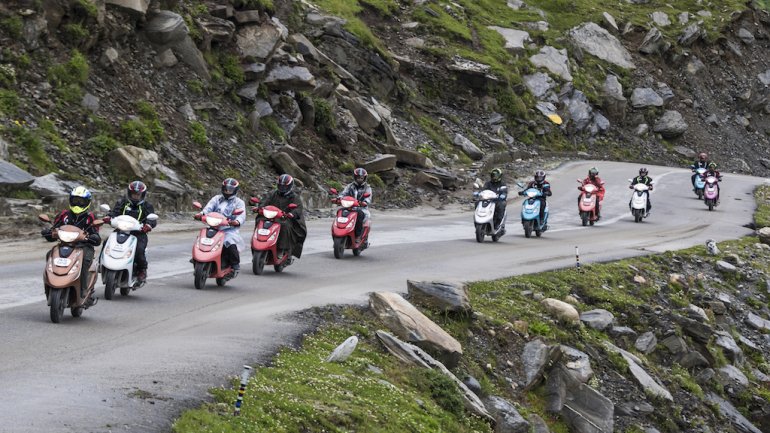 In 2015, Anam Hashim became the first woman on a scooter to reach the highest motorable road in the world- Khardung La from Jammu in a TVS Scooty Zest 110. Fast forward 2016 and the TVS has successfully completed this feat with a larger group, demonstrating that an adventurous heart plus a Scooty Zest is all you need to conquer any hard terrain, mountain slopes or unfavourable weather.
11 Women on 11 TVS Scooty Zest scooters rode the Khardung La Pass. Comprising of woman across age groups and backgrounds, the Himalayan Highs brings you the story of their journey, the accomplishment, the bonds forged and all the highs of the escapade with TVS Scooty Zest 110. As the riders say, this was a journey of incredible experiences and these bikes have become a huge part of their lives through the journey.
Shruthi Naidu puts it this way - "I came across rain, sun, wind and dust. I'm sure I'm not going to get this again in one single ride."
Since the time the journey has been talked about in media, it has inspired many more to explore their Highs. One such person is Mr. Amit Masurkar (of the Sulemani Keeda fame) who decided to interpret these highs from his perspective. He captured the friendship, colours, Selfies, Anticipation and Zest of regular people around us who carry some great stories which one just fails to notice otherwise.
Megha Chakraborty echoes the feeling of the 10 other history makers when she says "I am bitten by the riding bug now," as they struggle to say goodbye to their loyal steeds at 18,380 feet.
The TVS Scooty Zest is a favourite among the scooter riders in India. It has proven time and again that it is powerful and can battle through any terrain or distance effortlessly.
*This story is an advertorial.