Russian tuner Top Car showcased their 911 Turbo Stinger GTR and an aerodynamic kit for the new Macan at the 2014 Moscow Motor Show (Moscow International Auto Salon 2014) last week.
Porsche 911 Turbo Stinger GTR:
The sportscar gets new front and rear bumpers, fenders, a new bonnet, expanded rear fenders, new side skirts and a new rear spoiler. All parts are made from carbon and Kevlar by vacuum forming, according to the company.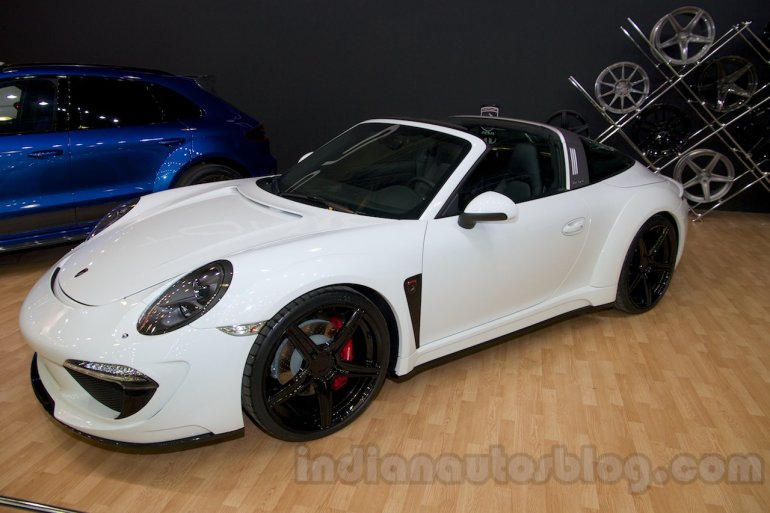 Performance wise, the 911 Turbo is powered by a 3.8-liter six-cylinder engine that produces 520 PS (512.68 bhp) in the Turbo and 560 PS (552.11 bhp) in the Turbo S in normal tune. However, thanks to BMC free flow air filters, a GIAC software for the ECU and Tubi exhaust and titanium tailpipes, the car can produce 30 bhp and 38 Nm extra.
Top Car Porsche Macan Ursa:
The Macan Ursa is available in two packages, with and without carbon parts. With carbon parts, the package costs 16,080 EUR (INR 12.84 lakhs), and without carbon parts costs 12,680 EUR (INR 10.12 lakhs). Aggressively designed front and rear bumpers with side skirts, lip spoilers, rear diffuser, air ducts on the front fenders, new grilles in the front bumper and a rear spoiler are the design changes on the SUV.