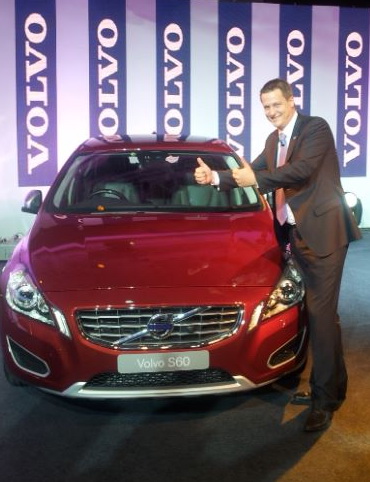 Yesterday, we were at the launch party of the new D3 engines introduced in the current lineup of Volvo cars in India. We caught up with Mr. Tomas Ernberg, Managing Director, Volvo Auto India to discuss the future of Volvo cars in India. Here is what he had to say:
Summary
1) Margins have been reduced for the current aggressive pricing. Prices will normalize after 12 months
2) 800 units is the target for this year. Plans to sell 20,000 units by the end of 2020. Targeting top 3 slots in the Indian luxury market by 2020.
3) No new dealerships this year. They will start popping up in 2013
4) No new models will be launched this year. A brand new one will be launched in early 2013.
5) Competition is perceived to be the biggest challenge for Volvo cars in India.
6) Concept Universe hints about the future Volvo globally – planning to be more luxurious
7) XC90 replacement will be out in 2014-15
1.    How did you manage such an aggressive pricing?
Let's put it this way – We have taken a decision that India is very important for Volvo Cars. We are going to put our strategic focus on growing Volvo's presence in India. To do that, we have also analyzed the customers in different focus groups across 3 different cities (Delhi, Mumbai and Hyderabad) around India. We found that comfort, luxury and price is very important. Then we looked at the segments and we realized that the Germans have been very successful with 'corporate edition' models. So if Volvo cars wanted to take India seriously, we have to be in that pricing segment
So margins have taken a huge hit but we have done that because we want to be present in India and grow. In the future, we will be slowly increasing the pricing our car prices as these prices are not sustainable for long period.
2.    As your margins have taken a hit, by when do you plan to increase the prices?
For the next 12 months, the current prices are sealed. In October 2013, depending on the demand, we will modify the pricing.
3.    What about the dealership aspect of Volvo cars in India?
We want to focus on developing our current dealer network this year by increasing their competence and making sure that they are able to deliver the commitment of customer satisfaction. By doing that, we want to create success stories and then replicate. So this year, we plan to start negotiations and choosing new dealers in different parts of India. But new dealerships will only open by 2013. In 2012, we will stick to where we are – so 7 dealers. We just want to make sure that we have the right partners.
4.    What are the car-servicing aspect of your business?
When we started the operations in India, we offered a 2 year free service package. We have withdrawn that now. But still, we are 30 -40% cheaper than our rivals in terms of servicing.
5.    Will there be any new models launched in India this year?
This year we will not be introducing any new models. But by beginning of 2013, there will be a new model coming to India.
6.    Your target is 20,000 units per annum by 2020? How do you plan to achieve it?
2012 we will be targeting 800 units. 2013 will be closer to 2000 and from there 3500, 4000 and 6000 units per year. The biggest jump that we will have will be 2014-15.
This year will be the most important one for us because we are planning a jump from 300 units to 800 units. Plus, as I have said that we are developing new dealer base, so 2013 would be easier to build volumes.
7.    'Safety' is your USP. How difficult/easy is it to sell Safety in India?
Volvo cars are the safest in the world. But Safety is not the most critical factor when one is buying a luxury car in India. If you buy luxury cars such as BMW/Audi/Mercedes of course they are safe as well. Safety is not a criteria in India but it is a qualifier – you have to have it. What we are trying to sell is brand value.
We are trying to get younger people to drive our cars. Our target is people who drive themselves.
8.    What will be the biggest challenge for Volvo cars in India in the coming future.
Competition will be the biggest challenge. The Germans are pretty strong contenders. Many brands such as Infiniti and Lexus are still not here. Porsche is planning to expand in India. So we will have to be on our feet all the time.
9.    What about the Concept Universe? Will it ever see the production line?
Concept Universe gives a guideline of where Volvo wants to be in the future. We want to be more luxurious and compete with the best luxury brand in the world.
10. Any updates on a replacement of the XC90?
There will be a new XC90 coming soon. But it is not due this year or next, perhaps in coming 2014-15.
11. There has been a recent trend of downsizing the cars. Does Volvo plan to join the party?
Yes, most German manufacturers are downsizing their cars. We also plan to have a small car in 2013. It will surely be introduced in India.
12. Volvo cars is now owned by Geely. How has that impacted Volvo cars?
Our new owners understand the brand and want to keep us as independent as possible. They are backing us financially for a new models. With Ford, the research money was hard to come by. So we are quite happy with deal and our new CEO Stefan Jacoby is quite focused on decentralizing. There is more accountability and more entrepreneurship.
Click through the image gallery from the event
Volvo D3 range in India - Image Slideshow
Can't see the images? Head to our Flickr page right away!