Talking to reporters at the Sri Lankan Tata Nano launch, Tata Motors CEO Carl Peter Forster insisted hybrid technology is suited better for bigger vehicles. A South Korean newspaper published an interview where Ratan Tata spoke about a hybrid Nano.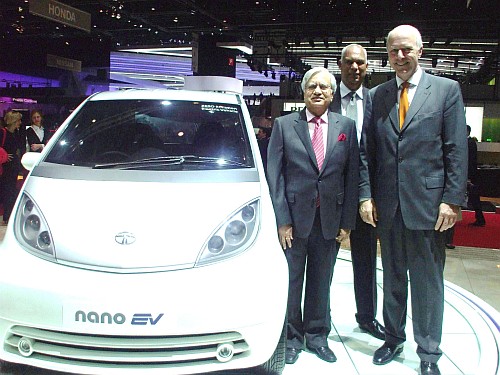 Tata Motors CEO Carl-Peter Forster -
We believe the hybrid solutions will be introduced in larger vehicles. To introduce hybrid in such a small car [Nano] the price would end up being increased by 50, or even, a 100 per cent of the current price.
Talking about alternate fuels, Tata Motors is said to be planning diesel, CNG and LPG Nano variants. IndianCarsBikes.in back in February insisted that the highly fuel efficient diesel Nano will return 40kmpl. An pure electric prototype (pictured) was an exhibit of everyone's interest at the Geneva Motor Show last year. The company had displayed the European Nano two years ago sporting a different design and interior.
Forster believes a lot of work has to be done to drive down battery prices to an affordable level. Tata assembles the Vista EV in Coventry for UK market consumption.
Source - TheHindu.com