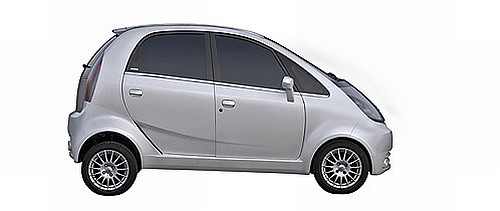 The development of the Tata Nano Europa is underway and Tata would be launching the Nano Europa by 2012-13. It is official that the Nano Europa will come with a petrol variant, followed by an electric version.
The gasoline engine in the Tata Nano Europa could be a sub-1 liter 3-cylinder engine coaxing out 45bhp. Married to a 5-speed manual transmission, it is capable of returning 24 kilometers to a liter. This engine would produce CO2 emissions of less than 100 gm/km and in the process passing strict Euro 5 emission norms.
The Tata Nano Europa EV is also going to be launched alongside the petrol variant. The Nano Europa EV would come with an electric motor capable of producing 55bhp and achieving a top speed of 120kmph.
The range of the Nano Europa EV is said to be a very respectable 150 kilometers on one full charge. Charging time for the batteries is around 6 hours. The Nano EV would is certainly heading to Spain.
The million dollar question is: would Tata upgrade or modify the Indian Tata Nano when the Nano Europa is fully developed? Would the Indian Nano get more refined powertrains? If Tata doesn't offer additional options and refinement, then the Nano and the Europa would become totally different cars which looking similar.
Though the cost of the Nano Europa is almost double the Nano, differences between the cars are huge -  the Europa is way safer and gets more capable engines and transmissions.
The Tata Nano is a low cost car and we can't complain much about quality issues. But when it comes to the car's reliability (that is the longevity of the car), rattling noises, brake lock-ups and the finer details, it leaves a lot to be desired from the Nano.
Tata Motors would have a chance to correct these glitches in the Indian Nano when the Nano Europa is ready, but if Tata chooses to ignore them, we will have to wait for the Tata Nano Mark II to see a better Nano, just like how the Indica and Sumo Grande panned out.
The Tata Nano would certainly be cheap, but not all that value-for-money.
Image source: Elconfidencial