Just like fellow family members, the Tata Nano posted poor sales figures in the past couple of months, indicating that the little car is in need of a refresh.
Of course, Tata Motors is working on a facelifted model along with CNG and diesel variants. There are also strong reports that a more powerful 800cc version is being developed. What we have here are the spyshots of the test mules which were caught testing by our regular reader Mr. Vadiraj Acharya from Bengaluru.
The mules spotted could be of the facelifted version of the Nano which uses a bigger engine. Yes we have a strong reason to believe that the 800cc petrol engine or the diesel engine was hiding behind the heavily disguised rear bumper. Watch closely where the exhaust pipe is! It's towards the left corner of the bumper rather than the current car's central position.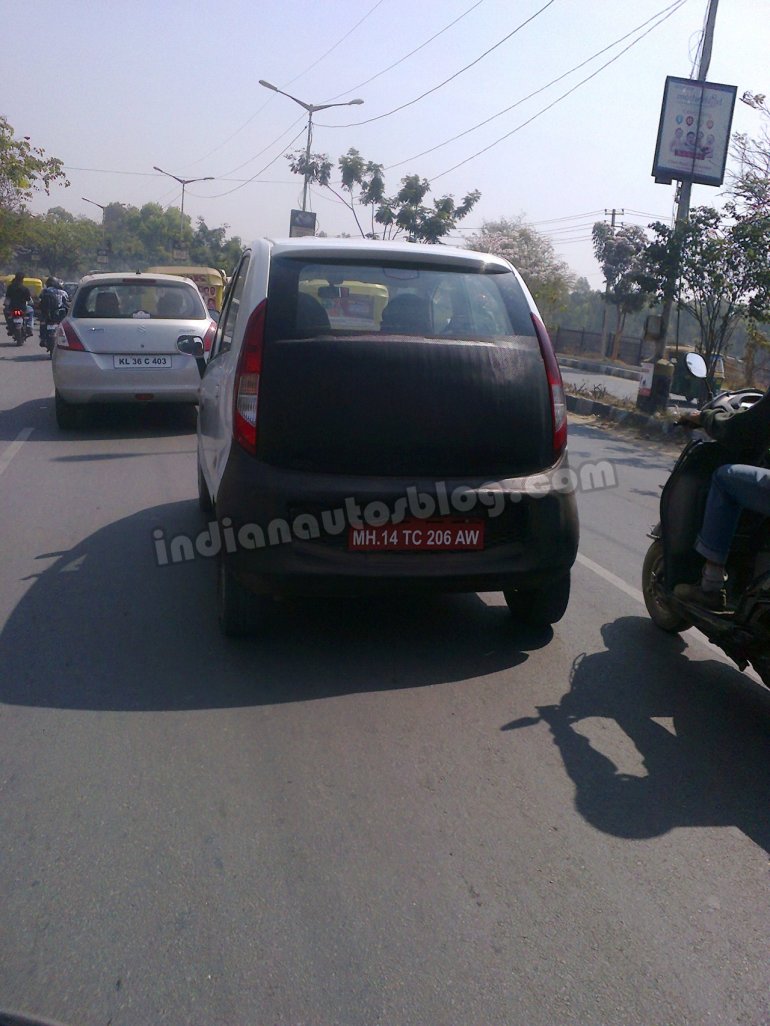 In the previous spyshot of the undisguised Nano facelift, the exhaust pipe continued to be at the middle, which suggests that these test mules indeed have a different engine.
Another interesting revelation is that these test mules appear to have a proper hatch door. Observe the rear of the black test mule and you could see a small bulge in the disguised part of the sheet metal above the bumper which could be the key hole.
In terms of looks, it is certain that the rear bumper will get reprofiled but there is no clear idea about other styling changes. The interior of the 800cc Nano are likely to get a meatier front seats, just like the ones found on the Nano that was spotted in Vietnam.
A 800cc petrol Nano could be a valuable addition to the lineup but it is the diesel variant that people are waiting for. Sadly, it could be sometime away from hitting the market.