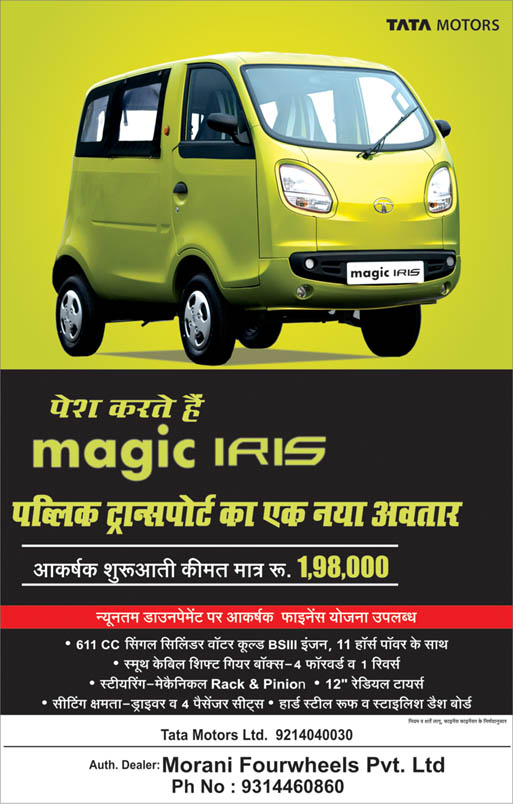 Thanks to our Jaipur reader Samant, we're able to bring you information on the highly talked about Tata Magic Iris. Tata Motors has launched the vehicle only in Jaipur and the vehicle will soon follow in other cities. The company has launched the BS3 edition of the vehicle which means it can only be registered in smaller cities (cities like Chennai and Delhi register only BS4 emission compliant vehicles).
When Tata Motors was contacted regarding this development they said ads have already started appearing on the local newspapers since the 29th of last month. In the latest edition of Dainik Bhaskar, a local daily, an authorized dealership has advertised the vehicle in Hindi listing some of the features, including the ex-showroom price. We have added the english translation for readers who come from other parts of the world.
In Jaipur, the vehicle costs Rs.2,11,900 (including registration fees and taxes). Booking have opened and a representative from the dealership conveyed to us that delivery of the vehicle will take a minimum of two days if the other formalities like insurance are completed immediately.
English translation of the advertisement -
Presenting Magic Iris
New avatar for public transport
Attractive starting price Rs 198,000 only
Attractive offers on Finance on minimum down payment
611cc, single cylinder water-cooled BS 3 (emission norms compatible), 11hp diesel engine
Smooth cable shift gearbox - 4 forward, 1 reverse
Steering - mechanical, rack and pinion
12-inch radial tires
Seating capacity - driver+ 4 passengers
Hard steel roof and stylish dashboard
Image credit - Dainik Bhaskar
Information credit - Morani Fourwheelers Private Limited