The newly launched Suzuki Gixxer 250 is a direct threat to the Yamaha FZ25. The KTM 250 Duke competes in the same displacement segment, although it carries a premium price tag. In this comparison, we list the specifications of all three motorcycles to help you identify the differences and make a better buying decision.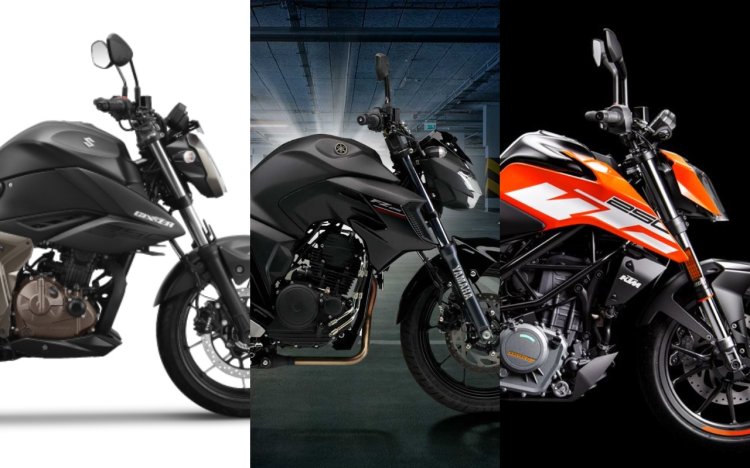 Also Read: Check out the official accessories for Suzuki Gixxer 250
Model
Suzuki Gixxer 250
Yamaha FZ25
KTM 250 Duke
Engine
Displacement and Type
249 cc, single-cylinder, oil-cooled, 4-valve, SOHC
249 cc, single-cylinder, air-cooled, 2-valve, SOHC
248.8 cc, single-cylinder, liquid-cooled, 4-valve, DOHC
Bore x Stroke
76.0 mm x 54.9 mm
74.0 mm x 58.0 mm
72.0 mm x 61.1 mm
Max Power
26.5 PS at 9,000 rpm
20.9 PS at 8,000 rpm
29.9 PS at 9,000 rpm
Peak Torque
22.6 Nm at 7,500 rpm
20.0 Nm at 6,000 rpm
24.0 Nm at 7,500 rpm
Gearbox
Six-speed
Five-speed
Six-speed with Slipper Clutch
Dimensions
Length
2,010 mm
2,015 mm
2,026 mm
Width
805 mm
770 mm
836 mm
Height
1,035 mm
1,075 mm
1,267 mm
Wheelbase
1,340 mm
1,360 mm
1,357 mm
Seat Height
800 mm
795 mm
830 mm
Ground Clearance
165 mm
160 mm
185 mm
Fuel Tank Capacity
12-litres
14-litres
13.5-litres
Kerb Weight
156 kg
152 kg
166 kg
Suspension, Brakes and Tyres
Front Suspension
Telescopic Forks
Telescopic Forks
Inverted Forks
Rear Suspension
Monoshock
Monoshock
Monoshock
Front Brake
Disc
Disc (282 mm)
Disc (300 mm)
Rear Brake
Disc
Disc (220 mm)
Disc (230 mm)
Safety Net
Dual-channel ABS
Dual-channel ABS
Dual-channel ABS
Front Tyre
110/70-17
100/80-17
110/70-17
Rear Tyre
150/60-17
140/70-17
150/60-17
Price
Ex-showroom Delhi
INR 1,59,800
INR 1,34,180
INR 1,96,672
In terms of features, the new Suzuki Gixxer 250 and the Yamaha FZ25 feature a full LED headlight, while the KTM 250 Duke uses a halogen unit to perform the illumination tasks. However, the KTM packs LED taillight and blinkers that enhance its premium quotient.
In terms of styling, the 250 Duke draws inspiration from the 1290 SuperDuke, which makes it one of the most desirable bikes, not just in the segment, but also in the Indian market. The 250 Duke's premium price tag also brings inverted forks and slipper clutch as standard equipment. The Gixxer 250 and the FZ25, too, pack muscular looks that should appeal to the buyers in the quarter-litre segment. Both Japanese-branded motorcycles feature conventional front forks and a monoshock suspension at the back.
The feature list on all three motorcycles includes a fully-digital display, although the KTM model offers more ride-related information than its Japanese rivals. Apart from regular readings, the orange backlit display on the KTM model displays information such as average fuel consumption, distance to empty, distance to next service and average speed among others. Do note that all three motorcycles come with optional accessories that can be used to further customise them as per the owner's choice.
The newly launched Gixxer 250 packs a decent amount of horsepower, churning out 26.5 PS at 9,000 rpm and 22.6 Nm at 7,500 rpm from its 249 cc, single-cylinder, oil-cooled, 4-valve engine. In comparison, its direct rival, the Yamaha FZ25 uses 249 cc single-cylinder, air-cooled, 2-valve motor that produces 20.9 PS at 8,000 rpm and 20.0 Nm at 6,000 rpm. The Austrian quarter-litre features a 248.8 cc mill with a liquid-cooling system, 4-valves and DOHC layout that delivers a healthy 29.9 PS at 9,000 rpm and 24.0 Nm at 7,500 rpm.
The Gixxer 250 and the 250 Duke use a six-speed gearbox, while the FZ25 has a five-speed unit. The 250 Duke, as mentioned above, benefits from PASC anti-hopping clutch/mechanically operated (or Slipper Clutch) system that comes handy while aggressive down-shifts.
The KTM model tips the weighing scale slightly higher than the Yamaha or the Suzuki roadsters, although the power and torque numbers make up for the extra bulk. The relatively higher seat height of 830 mm on the KTM, however, may repel the shorter riders. The FZ25 has the lowest seat height of 795 mm, while the Gixxer 250 is marginally higher at 800 mm.
The braking set up on all three bikes is governed by dual-channel ABS. Stopping power comes from disc brakes on both wheels. The KTM model features bigger rotors than its Japanese rivals. It is undoubtedly the most desirable, power-packed and feature-rich motorcycle in this technical specification comparison. However, the premium price tag may not fit everyone's budget. The Yamaha offering, on the other hand, makes a good value-for-money proposition but the lack of performance numbers may not appeal to the young buyers.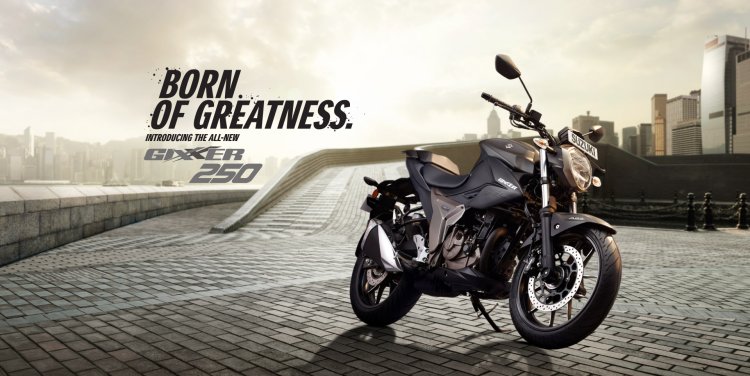 Also Read: 5 KTM motorcycles we wish to see in India - From KTM RC 250 to KTM 790 Duke
The Suzuki Gixxer 250 sits at a sweet spot in terms of performance and pricing. Priced at INR 1,59,800*, it is INR 25,620 costlier than the Yamaha FZ25 and INR 36,872 cheaper than the KTM 250 Duke.
*Ex-showroom Delhi