The next generation Camry is a subject of intense discussion after a Toyota official in America was quoted by WardsAuto talking about a fall 2011 debut (September-October). We now have what Chinese weblogs claim are initial spy shots of the 2012 Camry mule, parts of which are packed inside wooden boxes to hide its silhouette from prying eyes of the horsepower paparazzi.
Reports claim there is no delay in the introduction of Camry due to the Tsunami/Earthquake in Japan back in March. The objective of the new model is there for everyone to see - to take on the Hyundai Sonata and Honda Accord, two of the better selling cars in its segment. In India its plan will be to dethrone the Superb and put an end to the Passat Bluemotion' energetic and supremacy-attempting act.
By browsing further we understand design of the replacement model will not be a drastic redo. Glass area could be minimized, an overhauled front-end consisting of flowing lines, new bonnet and grille combination, LED lights and chrome treatment near the lip will lend it a premium look. Dimensionally, the Camry will be smaller with nominal reduction in length and height. Dimensional changes will reflect in fuel economy improvements, but will the difference be serious?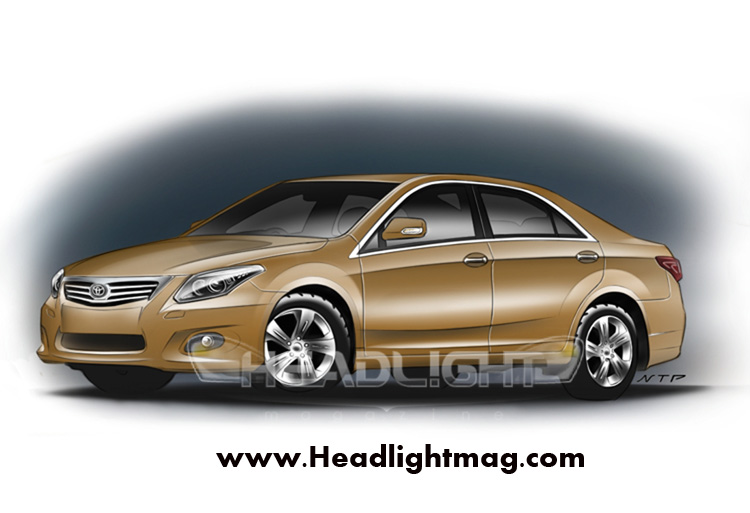 We aren't sure about TKM' strategy with the new Camry. Rival car companies are planning locally-assembled diesel models to reap the benefits of this fast-growing segment. Ford Mondeo, Hyundai i45, Nissan Teana facelift and variants of the Superb are cars standing in direct competition with the new Camry on its arrival in India, most likely in mid 2012, exactly three years after the mildly facelifted Camry was introduced.
More images of the boxed-up Camry can be seen at auto.qq.com
Rendering Source - Headlightmag.com