The Toyota Etios Liva hatchback has been spotted in Indonesia during a video shoot for TV commercial hinting at an imminent launch.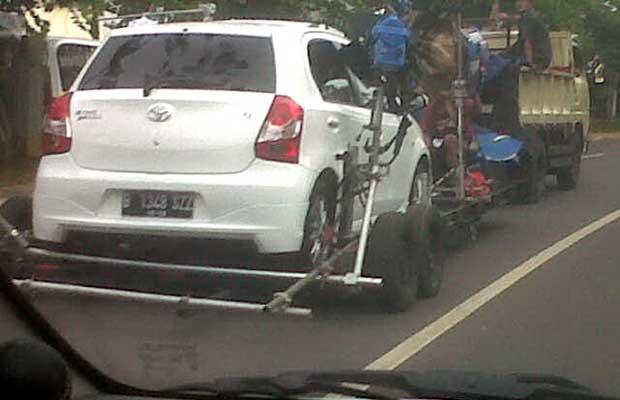 The Etios Liva had been spotted testing in Indonesia a few times and Toyota Astra Motors (TAM), the Indonesian subsidiary of Toyota could launch the car soon. This spy shot was clicked by the guys at Otomotifnet.com.
Interestingly the car has subtle differences to the rear fascia, the rear of the car is not an 100% match to the rear of the Indian as well as the Brazilian version. The rear tail lamp cluster is similar to the Brazilian car but the rear bumper is different, especially in the area below the license plate enclosure.
It'll take time for Toyota Astra Motors to assemble the Etios Liva locally and hence the cars will have to be imported either from India or Brazil, the only two countries which manufacture the Etios twins. Considering that Indonesia is an RHD market, the cars are most likely to go from India like how Maruti exports the Ertiga.
That brings us to the question of why Brazilian Etios style tail lamp units are found in this mule while the Indian Liva still continues with old tail lamps. We think that for India, the tail lamp unit is reserved for the facelifted model which is expected to arrive in mid-2013 while the models to be exported to Indonesia gets it right from the launch.
If the car spotted shooting in Indonesia was made in India, then it gives us a little bit of idea on what to expect in the facelifted Etios Liva.