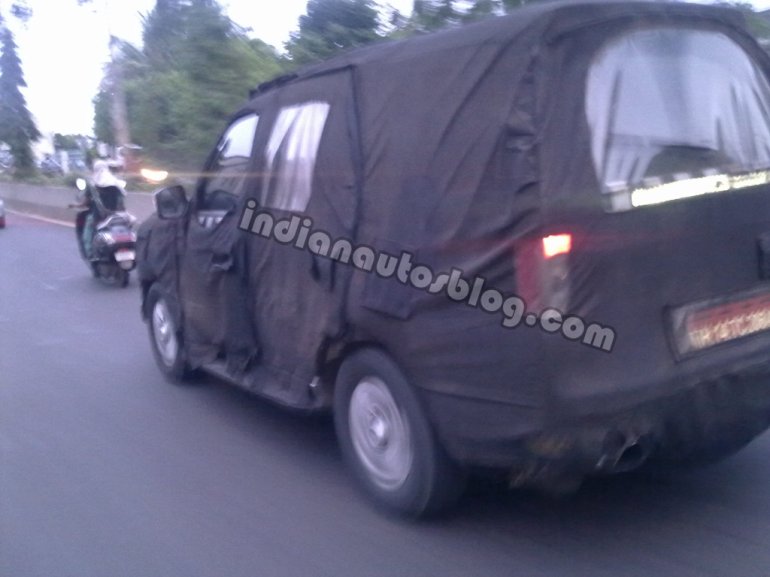 Remember the proposed Tata Safari Merlin? Apparently, it's still making an effort to reach showrooms, as spy shots of the macho SUV, making its own roads have been sent by our reader Suraj Vibhute.
Suraj spotted the Merlin near Nigdi, Pune draped in camouflage. The camou doesn't obscure the silhouette of the new Safari that stays true to the original. Tata is deciding if the Merlin has to replace the existing car or sit above it.
Sources tell Indian Autos Blog unplanned sets of revisions delayed the Merlin's introduction. Believe it or not, at the moment it looks like we won't see it till the Auto Expo next year. We can confirm that the Merlin will use a part of the Aria's platform and a completely new skin. Tata Motors put this new Safari through a re-skinning operation early in its development and the front-end is redesigned with new grill and headlamps.
The last time the Safari received goodies was during the BS4 reconfiguration where chrome coatings were applied on some body parts. From these photos, it looks like the Merlin will not only sport Safari-referencing body structure, but design elements from the Aria are likely to feature.
Tata Safari Merlin Video
Under the hood the Safari will benefit from the Aria's drivetrain program which resulted in a quieter, softer and smoother powertrain. The 2.2-liter DICOR will carry on propelling the beast with the help of a modified 5-speed gear box.
The steering and suspension systems have been revised to suit city stop-go city traffic, we hear.
Will the Merlin pull any rabbits out of the hat?