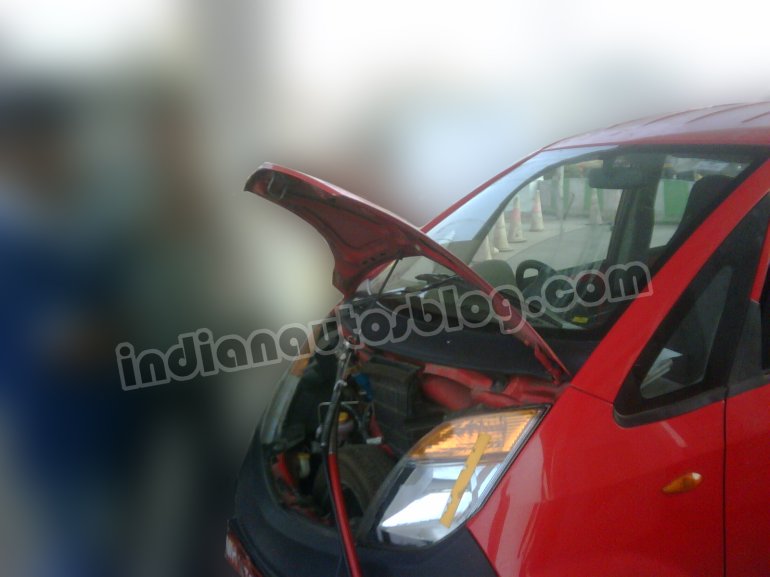 Just a few posts earlier we brought you news that Tata Motors is planning to launch the Tata Nano CNG version "very soon".
Here is a spyshot of the Nano CNG which further adds gravity to the words "very soon". Our ardent reader Rajj spotted the test mule of the CNG Nano while it was being refilled in a fuel station.
Source say the CNG tank is located under the front passenger seat and its capacity is 35 litres which is consistent with that of the Nano CNG concept showcased at the Delhi Expo last year.
The gas inlet is located near the petrol inlet and that means you've got to pop the bonnet up to refuel. The recent spotting suggests that the Nano CNG is just around the corner.
We brought you spyshots of the Nano CNG last month which sported a new cooling vent in the rear bumper to direct more air towards the rear mounted engine.
The Nano started off with a very low sales of 1,504 units in January 2013 and a lot is expected from the incoming CNG version as far as sales numbers are concerned. Even though the availability of CNG in not evenly spread across the nation, the cheaper and cleaner fuel is a major sales push in the regions where it is available for car makers such as Maruti Suzuki who offer a complete stable of CNG cars. It is sure to improve the appeal of Nano in these regions which have access to the fuel.
While the CNG variant is expected to give the Nano a shot in the arm, it is the diesel version that is pipped to be the game changer.