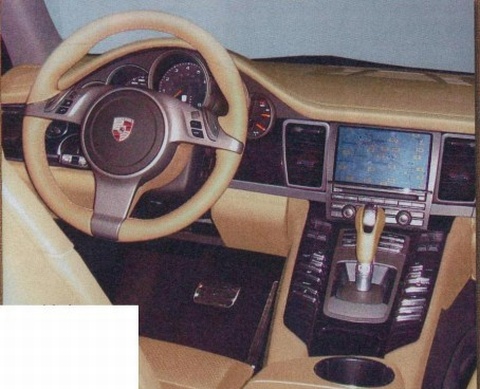 Previously on IAB, we gave you a visual treat- 20 high quality images of the Porsche Panamera. But those photos solely brought out the beauty's exterior. Nevertheless, those photos merely brought out the beauty's exterior.
The Porsche Panamera's interior has not yet been shown officially to the Press. But here we have a clear photograph which displays the well laid out dashboard of the 4-door Porsche. Buttons encircling the gear selector hints me of the Airbus' cockpit.
The AC Vents on both sides of the Sat-Nav screen blend seamlessly on to the 2-tone dashboard. perfectly. You can also observe that the clutch pedal is missing and the cup holder adjacent the driver's seat, provides the car a feature common to any Maruti or Tata!
Porsche will hopefully introduce the Panamera in India by December 2009