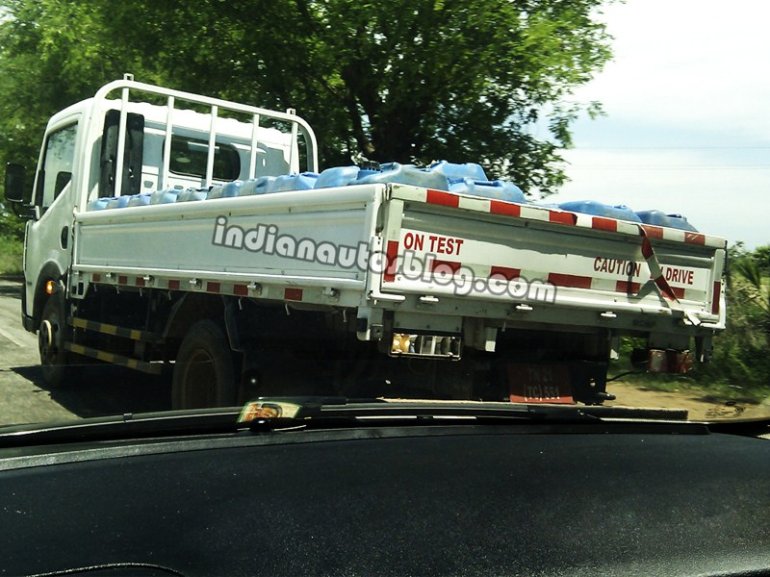 After IAB fan S.R.Vishnuvardan, it the eagle-eyed mule snapper Sree Ganesh's turn to bag the Nissan Atlas "Low" variant.
Nissan has partnered with Ashok Leyland to sell commercial vehicles in India and the first product to come out of this alliance would be the Dost. Following this, the NV200 dressed up as a goods carrier will be the second result.
The Atlas could be the alliance's third project but details are not all that clear at this point. The LHD Atlas might be here as part of the global testing. We can't rule out that possibility, can we?
Sree has all the details. This is the note he left behind for IAB readers :
Vehicle spotted: A white LHD Truck
Location: NH 205 between Thiruvallur to Thirutani (Tamil Nadu)
Time: 2:30 PM
Date: June 13th 2011
Upon closer inspection I realized that it is the latest generation Nissan Cabstar (name used in some markets) truck. Wonder if Nissan is testing the same 2.5 dCi engine.
Other Details:
It was TN Registered - TN 21 (TC) 551 . Temporary registration - Red Number Plate
It had red stickers indicating "Caution - LH Drive" & "On Test" (LHD - Fancy that ?)
Believe it was undergoing load testing as the loading area had about 40 plastic cans
The driver did notice that we were taking snaps and tried to avoid us but we did manage to stay close to him and snap the pics (way to go Tiger!)
Do you know what Nissan is up to with the Atlas? Are they considering this product for India?
Nissan Atlas mule images