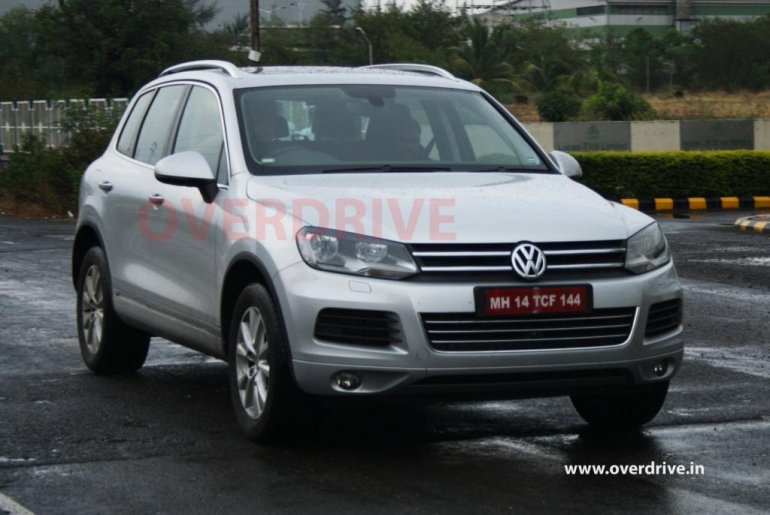 Overdrive magazine has posted images of the new Volkswagen Touareg caught testing in Pune. The 2011 Touareg is the second generation model unveiled in February last year.
When we asked Volkswagen India why they launched the outgoing model two months before the all-new Touareg (you see here) was premiered, they said if customers were not provided options they would look at a competitor brand for honoring their needs.
This is exactly what VW told Indian Autos Blog last year -
If we waited for one year and then introduced the Touareg in India, the customer will go for X, Y or Z. We want the customer to buy our product and after five or so years when he's looking to buy his next car, he would come to VW for the replacement.
The RHD (Right Hand Drive) conversion usually takes six months and Volkswagen has takes its time in bringing the new Touareg to the Indian market.
The new Touareg is likely to sport the Bluemotion badge in India with fuel economy figures about 10% better than the outgoing model. The 3-liter V6 producing 240PS/550Nm is the expected enginel. It will propel the car to 100kph in less 8 seconds and accelerate till 218 kph.
New VW Touareg Video
The diesel engine is paired to a new 8-speed automatic transmission. Volkswagen might not offer the Touareg hybrid as the image of hybrid cars in India is yet to catch up with Europe or America. The cost of importing and replacing the batteries could cost as much as the savings on fuel.
The Touareg is designed in keeping with the company's new design language seen on the Polo, Vento and Passat. It will continue being imported as a CBU so prices will not come down.
Overdrive reports that the new Touareg will be launched in August.
[Spyshot courtesy - Overdrive.in]