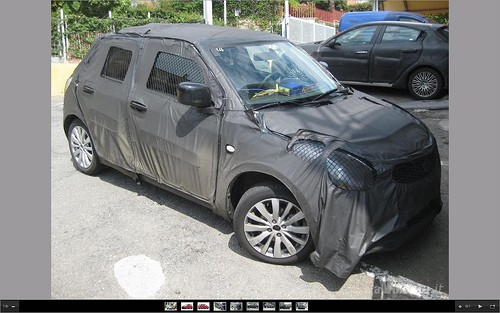 The 2010 Suzuki Swift will have CVT option and hybrid powertrain for US market
The 2010 Suzuki Swift has been a constant source of interest for us since the first set of spy shots emerged. Caught testing here again, we can confirm one thing - the pull back headlamps extend till the top of the wheel arches quite like the design procedure Tata adopted on the new generation Indica Vista.
The body structure of the 2010 Suzuki Swift is said to have been modified to open up extra interior room. There could also be battery pack accommodation behind the move given the Swift's moderate boot volume. The outline of the car from the side and rear view don't reveal anything suspicious. Suzuki is staying with the current body style.
The new 1.2-liter K-Series engine is expected to do perform duty under the 2010 Swift's bonnet while the diesel lover enjoys the services of Fiat's 1,300cc Multi-jet engine. Overseas, a host of engines including a new 1.5-liter CRDI engine from Fiat is rumored. There's also the hybrid powertrain and the CVT option for the American and Japanese customer.
2010 Suzuki Swift Spied Image Slideshow
can't view the slideshow above, visit the 2010 Suzuki Swift Spied Image Gallery directly
Image Courtesy - Alvolante Italy