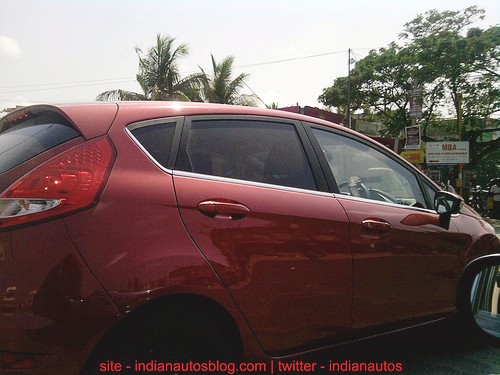 The Euro Fiesta hatch has been caught yet again in Chennai, this one's red color
There have been many reports on the Euro Ford Fiesta coming to India next year with a boot, but none of them have been approved by Ford. Ford maintains that it constantly tests vehicles in Chennai and the Euro Fiesta could be part of that.
Spied testing in Chennai city, this red Ford Fiesta was quite easily the best looking car on that stretch road. It is huge, it has a great design and the red color was smashing!
Can Ford price the new Fiesta hatch competitively? Ford should have learned from Honda's mistake of introducing a premium hatchback in India. If Ford is going to take a chance, then better give the customer with maximum value at that price point.
Perhaps Ford can take a chance by pricing the base Fiesta petrol at around 6.5 lakh rupees. They could give it features like climate control, electrically operated seats, cruise control, good sound system, etc at the entry point itself. The Fiesta is offered in Europe with a 1.4 liter petrol and diesel engine.
As the length is beyond four metres (4067mm), Ford could take two routes
1) A cosmetic change to shorten the length and plonk a re-tuned Figo petrol engine (probably turbocharge it, (read Ecoboost)) under the bonnet to qualify for small car benefits.
2) Keep the length, preserve the beauty, put in the powerful 1.4 petrol that Europe gets and sell it as a hot hatch with alloy wheels, music system, steering mounted controls, climate control etc.
Ford knows better. We're expecting the Fiesta sedan to arrive before the hatch and its success will determine the future of the hatchback.
Euro Ford Fiesta Image Slideshow
can't see anything above? visit the Euro Ford Fiesta Image Gallery directly