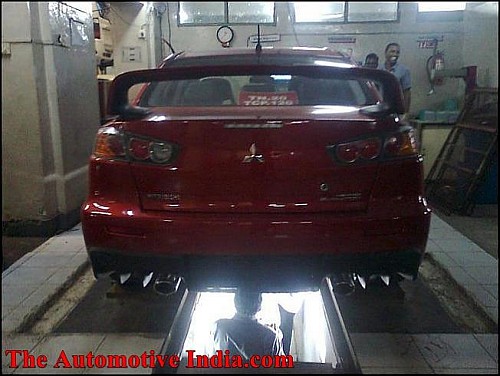 The Mitsubishi Lancer Evo X has been spotted in Mitsubishi's showroom in Chennai by our friends at The Automotive India. The Lancer Evo, which has been highly anticipated by the Indian car enthusiasts, would be launched officially in the second week of July 2010.
The Lancer EVO FQ300 is the model which Mitsubishi would be bringing to India and this car comes with a turbocharged 2.0-liter in-line 4-cylinder engine that pumps out 290 bhp, mated to a 6-speed Twin Clutch SST transmission with paddle shift.
The Lancer Evo X's all wheel drive would ensure that all the 290 horses are used fully and aids in razor-sharp handling. The car is expected to be carry a price tag of more than Rs. 40 lakhs.
Mitsubishi Lancer Evo X spied gallery -
Source: The Automotive India