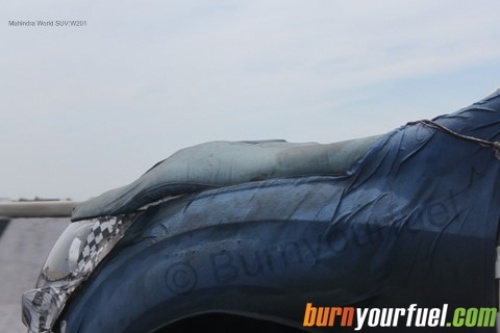 The Mahindra World SUV (Codename: W201) has been spotted yet again tripping across Tamil Nadu. We have been regularly bringing you updates on the World SUV and by now you might know that the SUV is being tested heavily for quite sometime now.
The proportions of the car are gigantic and the test vehicle sported 17 inch wheels that looked small for the SUV! The interiors also looked upmarket with bits and pieces shared with the Mahindra line up but clearly they are a class above. With the striking dual pod instrument cluster and the design flair of the interior.
The car as you know is built on a brand new platform and has a monocoque construction. The car is expected to sport a 2.2 liter Mhawk engine, similar to the Scorpio and there is a possibility of a V6 petrol for overseas markets.
The side mirrors also sported turn indicators. Mahindra wants to leave no stone unturned with this car and it could be just like the Aria for Tata, the most sophisticated Mahindra ever built. It is expected to hit Indian roads in mid 2011 and Mahindra will be selling this vehicle in the USA too.
To catch all the other spyshots, head over to Burn Your Fuel