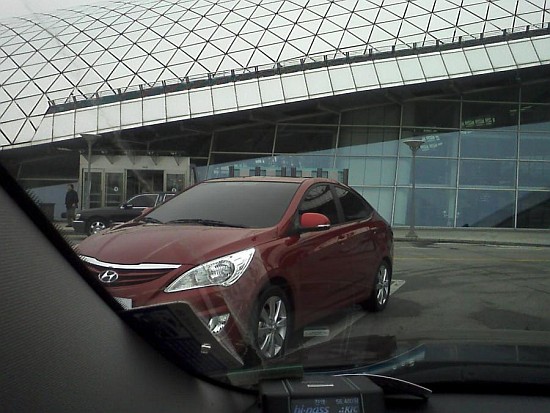 The next generation Verna looks brisk and is miles ahead of the current Verna
Wow!
For an instant, you might mistake the plum red Hyundai for the Sonata YF. But look closely at the rear quarter glass panel and the sloping roof.
What you see here is the next generation Hyundai Verna/Accent (code : RB) that will be manufactured at the company's Chennai facility. We speculate the RB will be launched in India by the end of 2011 with an all-new powertrain. We have also heard of reports in the past that structurally, the i20 could underpin this sedan.
We understood that the regular CRDi engines and larger displacement 4 pot petrols will rest under the new Verna's hood. There are also chances for the 1.6 GDi that produces 140bhp to make it on to the RB, but the Indian RB is likely to feature traditional CRDI engines and to the maximum extent, a petrol engine with variable valve timing – which again is our best guess.
We also hear that Hyundai will introduce refreshed Verna Transform in India shortly and that to us will only place a giant blot on Hyundai's design language. On one hand there's the fluidic design sculpture scheme used in excess on the Sonata and flowing lines on the i20 that keeps us interested. Then there's this bipetal alien in the form of the new Verna Transform which frankly speaking is the worst facelift (they should call it the Hyundai 'Accednt') we've witnessed recently.
Source - The Car Blogger