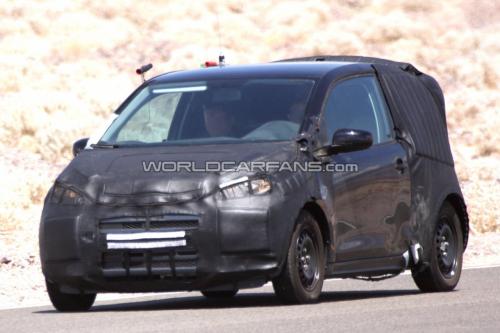 The first full body prototype of the VW Lupo here in India by the end of 2011 has been caught testing in America. The sub-Polo hatchback will make use the Polo's 1.2-liter diesel and petrol engine. The entry-level model could have a sub 1-liter petrol engine.
Internationally you can buy the Lupo with VW's 1.2 TSI engine that will make this car a blast to drive. Unfortunately in India this car is positioned to fight for volumes with the likes of the Suzuki Alto, Hyundai's HA and Chevrolet's Spark.
VW has done a good job of camouflaging and adding fake spoilers to prevent us from deciphering the car's design. We speculate the Lupo's design will be a mix of the i10 and Polo. The Lupo will be manufactured at VW's plant in Chakan, Pune.
Head over to World Car Fans to see the rest of the spyshots
Click here to see an artist's impression of the VW Lupo