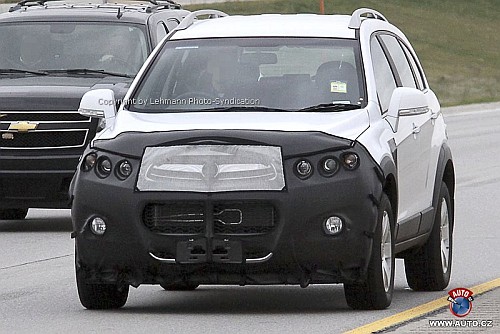 The refreshed Captiva comes with new design, engine and additional gear.
By mid-2010, General Motors will launch the facelifted Chevrolet Captiva with a 2.2-liter diesel engine. Co-developed with VM Motori in Italy, the new 2.2-liter engine is expected to boost fuel economy and reduce emissions to Euro 5 levels.
The power and torque values are reportedly 10% better now. The new model could come with a 6-speed manual transmission, a gear more than the existing model. The front fascia could be sharper to give the vehicle a more distinct feel. The Captiva's headlamp and grille were never its design highlight. The facelifted model should change that.
The existing Captiva, imported from Korea, comes with a 2.0-liter diesel engine.
2010 Chevrolet Captiva Image Gallery
You're a Chevrolet Captiva fan? Check these out -
1) Chinese Lady tows tow truck with her Captiva!
2) A Chevrolet Captiva for the Moon
3) Read our review of the Chevrolet Captiva -
4) Irmscher's sexy body kit for the Chevrolet Captiva
5) Chevrolet Captiva tuned by Lexmaul
Source - Auto CZ