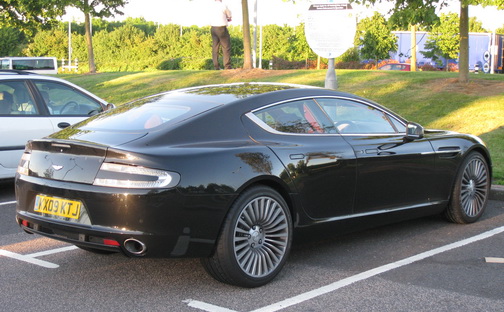 Spy photographers are unnecessary if you look at what Simon Gregg, a follower of Car Magazine has just caught on his cam- That's right, he snapped a production model of the 4-door Aston in a parking lot without ANY camouflage. Take a bow Simon.
The car spied here could be one of the final prototypes before the actual car is shown at the Frankfurt Motor show in mid-September. The naked prototype finished in black, has its interiors soaked in red.
Poised to take on the 4-seat-4-door contenders like the stylish Porsche Panamera and the Mercedes Benz CLS, the Rapide is fitted with a 6.0-liter V12 engine that makes 470bhp and 600Nm of torque. Power will be directed to the rear wheels through a six-speed ZF automatic transmission with Aston's Touchtronic control.
The Aston Martin Rapide will arrive at showrooms around the globe in 2010. Don't expect it to cost any less than $200,000.
Aston Martin Rapide Image Gallery
Source - Car Magazine U.K