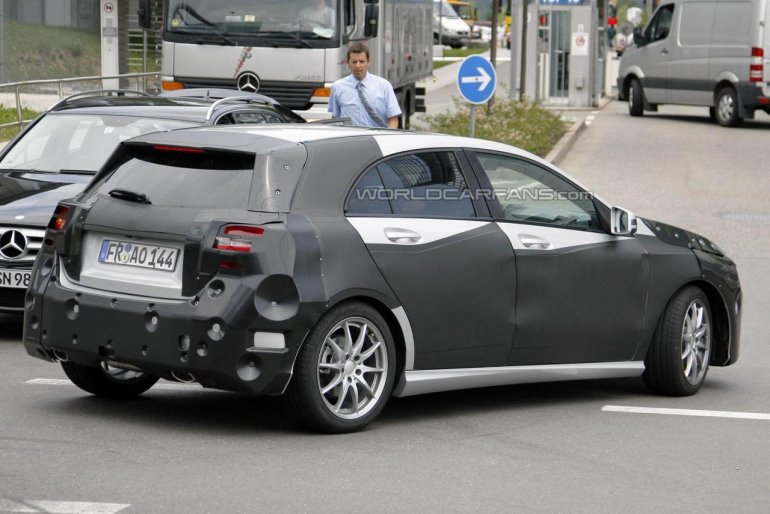 The Mercedes A-Class has moved on in its life. Spied for the second time, the bean shaped replacement model is back in the spotlight, this time with moderately less camouflage.
Mercedes is not going to give it away completely, even though a patent drawing revealing design details about the car has leaked on to the web. Much of main body parts have been covered but we do know that design inspiration will be drawn from the dramatic A-Class concept car previewed earlier this year.
The traditional Mercedes grille continues to hang on to the new A-Class but the light, compared to the concept has toned down.
Powertrains are going to be same as the 2012 B-Class, so a total of five petrols with 109 PS to 204 PS as well as four diesels with 122 PS to 204 PS is expected to be offered when the model is introduced in some markets early next year. The new A-Class is built using a less expensive front wheel drive architecture. In the future one can expect to see a dual clutch transmission along with all wheel drive.
Mercedes Benz India is interested in bringing the A-Class to India. It could price it between 15-20 lakh rupees in 2013. Buyers of the A-Class are not looking for a value for money hatchback. Buyers are neither looking for performance, comfort or fuel economy. They are only looking to drive a Mercedes Benz, a status symbol regardless of the form or size of the automobile.
Mercedes Benz A-Class concept video
[Head over to WorldCarFans.com to see more images]