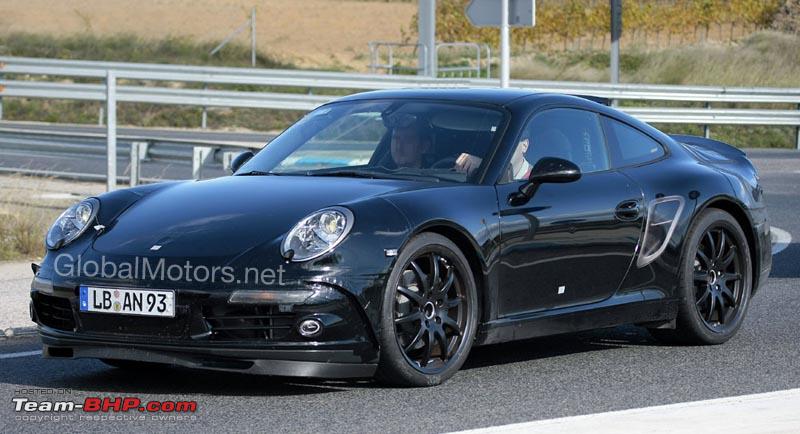 The next generation 2011 Porsche 911, the 998, was caught road-testing on German public roads. At first glance, it looks very much like the current generation 997 model range (we had actually mistaken this for a test mule, but this isn't one). Porsche purists who claim that this is sure to be the next generation 911 also say that this car is likely to re-write the 911 design code. The new 998 version of the car, secretly called 'project 991', hints that this will feature a few radical departures from the 911's classical lineage.
Radical departures from 911's Classical lineage
Clearly visible exterior changes are
More vertically angled Headlights
Side mirrors positioned on the doors and not at the window

Redesigned front bumper with integrated Fog-Lamps

Adjustable front and rear spoilers

Dynamically opening and closing air intakes.

Completely different Rear section
Other features include heavy use of lightweight Carbon-Fiber materials and Active Aerodynamics - Car's surface reacts to what the car is doing, and how fast it's doing it (predominantly by raising and lowering the spoilers).
Speaking about the new design, a Porsche official said, "It will be even more competent, even sexier, even more unique. The design can of course only be evolutionary, but beneath the skin, almost anything is possible"
According to the manager, the design team is facing several challenges, which include pedestrian protection rules- wherein the EU requires a change to the nose section of the car- meaning a larger and more collapsible bumper section. They insist that the changes are out of necessity more than anything, but they will be noticeable.
Image Courtesy: Worldcarfans.com, Globalmotors.net, TeamBHP
Source: German Car Blog