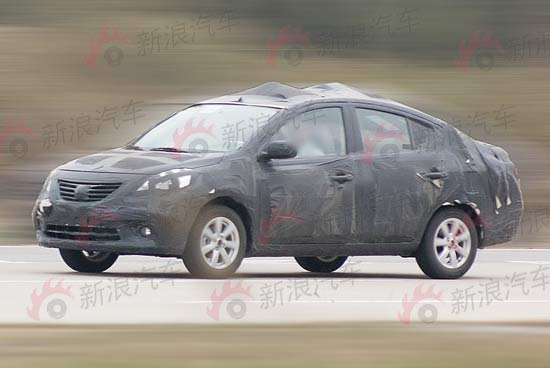 The Nissan Micra-based sedan will be introduced in India next year and here are the first spyshots of the vehicle undergoing real-world testing in China.
The Micra-based sedan or V-Platform sedan, we're informed, will not just be a Micra will a boot. It will be more like the Honda City-Jazz relationship. The mechanicals will largely stay the same while some of the sheet metal panels and detailing will be different. The quality levels are also expected to be much better. The feature list will be longer, we suppose.
We're expecting the Micra-based sedan to come with a 1.5-liter diesel engine (lifted from the Renault Logan). We could even see the same 1.2-liter petrol engine tuned for more power and torque on the base variant. What Nissan must try doing is have variants across a wide price band. This means a more powerful petrol engine (perhaps a 1.6-liter petrol?) needs to be brought in.
From the spyshots, we infer that the front doors, wheels, wing mirrors, instrument cluster, bonnet and windshield come from the hatchback's parts bin.
The dimensions of the vehicle, according to previous reports, are 4200-4390*1690*1490 MM (L*W*H), so expect more rear legroom and decent boot space.
We expect Nissan to offer automatic transmission option. We also believe that the wheelbase will be longer. The vehicle could end up looking like a mini Teana.
Nissan Micra-based Sedan Spyshots
Source - sina.com.cn