Ather Energy recently started the deliveries of its Ather 450 electric scooter in Bengaluru and one of the first owners of the battery-powered vehicle is Sachin Bansal, Co-founder of Flipkart. Bansal is also one of the investors in Ather Energy.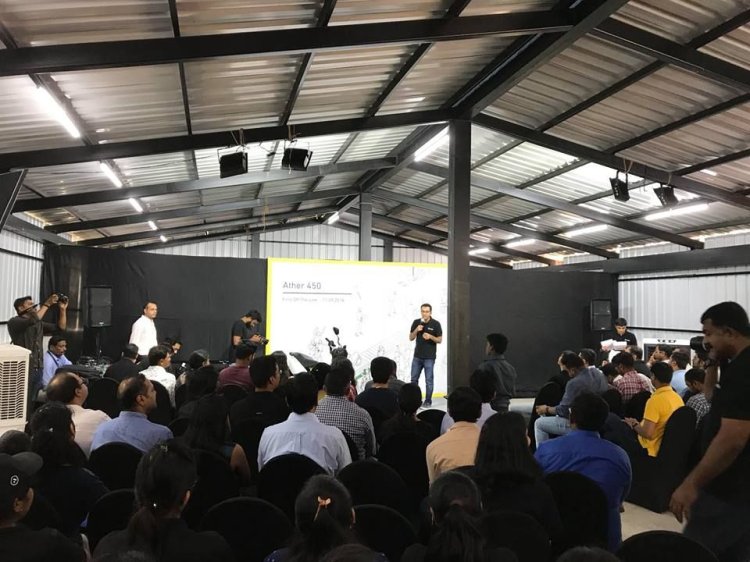 Also read: Bengaluru-based Emflux Motors teases the 'TWO' Electric Streetfighter
Tarun Mehta (Co-founder and CEO) and Swapnil Jain (Co-Founder and CTO) handed over keys to the flagship electric scooter from Ather Energy, to the first ten customers, on September 11, at the Ather Vehicle Factory in Whitefield, Bengaluru.
Apart from the Ather 450, the Bengaluru based two-wheeler brand also launched the Ather 340. The Ather 450 has been priced at INR 1,24,750 while the 340 is available for INR 1,09,750 (prices are on-road, Bengaluru). Currently, the electric scooters are only be available in Bengaluru. However, Ather Energy plans to introduce the products in 12 major cities in the country by 2020. Ather Energy will set up its charging network, Ather Grid before the scooters are rolled-out to the major cities.
Both variants, the Ather 340 and Ather 450, share identical design and paint options. The electric scooters also feature a 7-inch touchscreen dashboard that displays all the ride related information like the odometer, speedometer and battery gauge. Moreover, the massive display also doubles-up as a navigator. The scooters also feature all LED lights and a 24-litre storage space. The storage space also features a LED illuminator.
However, the more premium Ather 450 boasts higher performance. The engine on the Ather 450 delivers a peak power output of 5.4 kW and maximum torque of 20.5 Nm that helps the scooter accelerate from standstill to 40 kmph in just 3.9 seconds. The 450 is capable of achieving a top speed of 80 km/h. The scooter, with its 2.4 kWh Lithium-ion battery, boasts a range of 75 km (Eco Mode: On) and 60 km (Eco Mode: Off) on a full charge.
The relatively affordable Ather 340 offers a peak power output of 4.4 kW and maximum torque of 20 Nm. Zero to 40 kmph takes slightly longer than the Ather 450. The Ather 340 can accelerate from a standstill to 40 kmph in 5.1 seconds and is capable of achieving a top speed of 70 kmph. The 1.92 kWh battery is claimed to be good for 60 km (Eco Mode: On) and 50 km (Eco Mode: Off) on a full charge.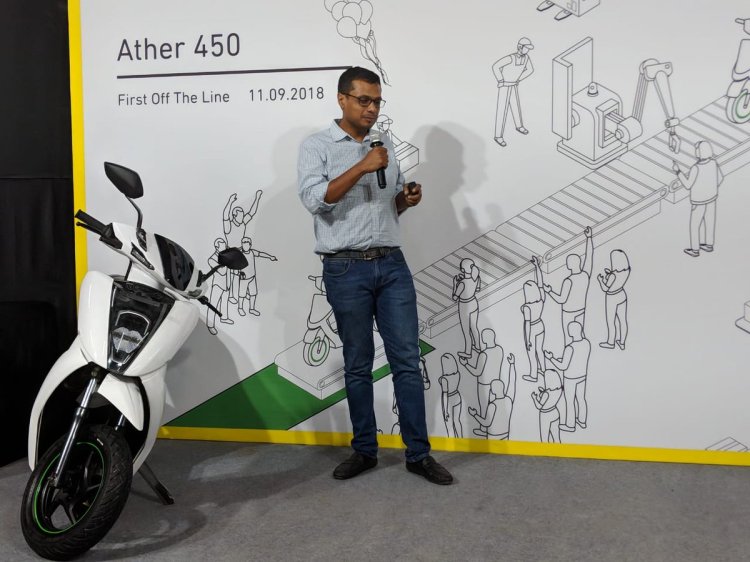 Also read: Mahindra Mojo Electric variant spied in India for the first time
Both batteries are IP67 rated water, dust resistant, and can charge at 1 km/min with the fast charging adapters that are strategically located across Bengaluru. The regular home charger takes a longer duration to juice-up the battery.
[Image source: Twitter.com]