The Rolls Royce Ghost Alpine Trial Centenary Edition, which celebrates 100 years of a landmark moment in the legendary British automaker's history has been unveiled at the Auto shanghai 2013.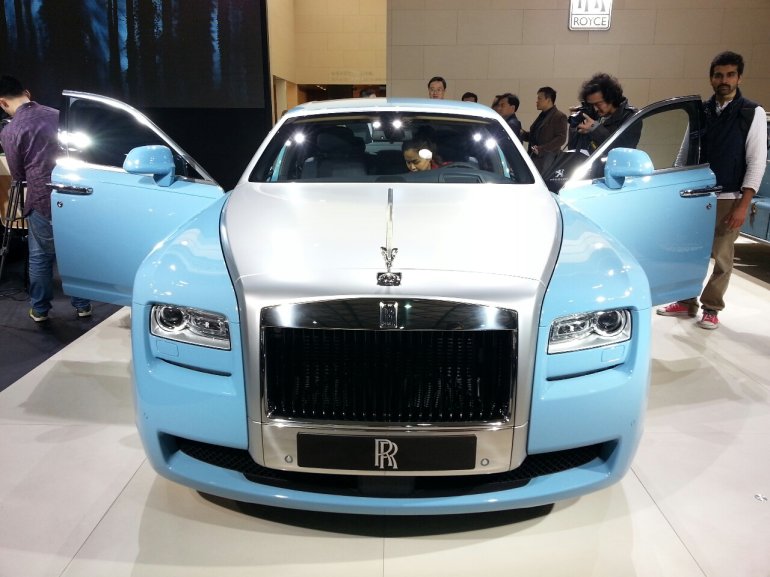 A century ago, in the month of June (1913), four Rolls Royce Silver Ghosts set out on the Alpine Trial which was considered the most arduous test of automotive endurance of that time. The cars successfully completed the 1,820 mile long journey through almost impassable mountain terrains.
Rolls Royce's factory team along with a privateer James Radley made this milestone achievement which highlighted the marque's reliability and mechanical excellence. So in order to commemorate the occasion, Rolls Royce's bespoke department has created the Ghost Alpine Trial Centenary Collection.
The limited edition Ghosts are the first cars from the bespoke department that are inspired by a heritage Rolls Royce car. In order to pay tribute to the 1913 Alpine Trial cars, the limited edition Ghosts feature an exterior paint hue which derives inspiration from Radley's century old Ghost. The Radley car's unique black painted grill and wheels are also replicated in the limited edition models making them the first contemporary RRs to feature a painted grill.
The cabin is designed in such a way to narrate the Alpine Trial Story. The clock displays the stages of the rally and timings, while the rear picnic tables and the front fascia express the topography and distances of the Alpine route. A hand painted coach line which refers to the 4 Ghosts that participated in the rally and a hood color matched to that of the Radley's car completes the homage.
In June 2013, Rolls Royce Works team will faithfully re-enact the story by taking the original Radley's Silver Ghost and a 2013 Ghost Alpine Trial Centenary Collection through the original course starting from Vienna on 14th June.
The contingent will meet up with a parallel rally organized by the Rolls Royce Enthusiasts Club at Riva del Garda, Italy where 100 RR Silver Ghosts will be lined up side by side, representing the largest gathering of its kind in the brand's history.
Press Release
[Can't see the press release? Head to our
Issuu page
]