Designed for different markets and competing in different price segments, the Hyundai Creta and Toyota C-HR don't go in the same basket. Russian website automps.ru has compared them anyway, as both fit SUVs fit the definition of a sub-compact SUV.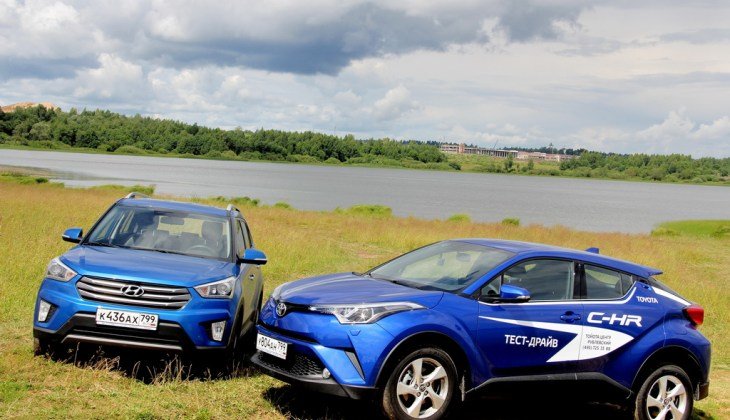 The Hyundai Creta is the best-selling model in its segment in Russia, with more than 1,20,000 copies in the driveways of customers since launch in 2016. It's developed especially to lure price-sensitive buyers in maturing markets who otherwise have to settle for an expensive foreign model. While robust and mature no doubt, it becomes archaic next to Toyota C-HR created especially for mature markets.
The Toyota C-HR is a radical design targeted at young customers set dead-serious about looks, be it at the cost of practicality (read: space). The steeply sloping roofline, hidden rear door handles, complex curves and creases on the body panels, driver-focused sporty cockpit and various other details make this a truly stunning B-SUV. Also worth noting is the fact that this global SUV rides on an advanced, TNGA platform and packs more safety features, including Rear-Cross Traffic Alert and Blind Spot Monitor.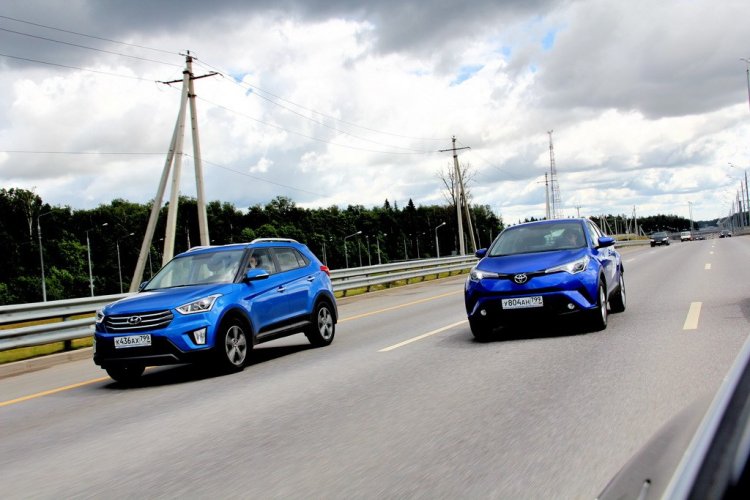 The Hyundai Creta is available with 123 PS 1.6-litre and 149.6 PS 2.0-litre MPI naturally aspirated petrol engines. 6-speed manual and 6-speed automatic are the transmission choices. An AWD system is available. The Toyota C-HR is available with a 115 PS 1.2-litre turbocharged petrol engine and a 148 PS 2.0-litre naturally aspirated petrol engine. Power goes solely to the front wheels, via a 6-speed manual transmission or a CVT.
The Russian publication tested both with their respective 2.0-litre engine, with a 6-AT in the South Korean model and a CVT in the Japanese model. The former was equipped with an AWD system. On off-road courses where the latter got stuck, the former passed through easily, thanks to the live axle. The AWD system does make it heavier, though, and that affects the on-road performance. Also, it's 0.3 seconds slower in the 0-100 km/h sprint (11 seconds).
Also Read: Y K Koo confirms locally manufactured next-gen Hyundai Tucson for India
The Hyundai Creta and Toyota C-HR fall in different price segments and for the prospective buyers, cannot be interchangable choices.
As for India, the next-gen Hyundai Creta is in the development stage and will launch after 2020 in five- and seven-seat versions. The current Toyota C-HR, though spotted in India with test plates, is sadly not heading to TKM's showrooms.
For the complete comparison, go to the source link.
[Source: automps.ru]