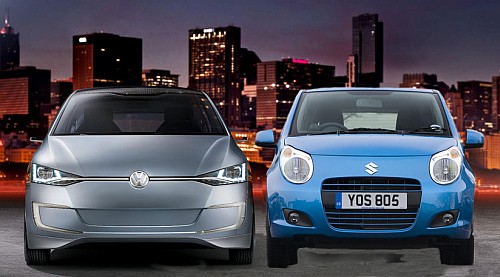 Volkswagen recently bought 19.9% stakes in Suzuki. The German carmaker made a very smart move by buying stakes in Suzuki could create opportunities for VW to jointly develop low cost car models, which is the Japanese marque's strength.

Volkswagen is planning to develop its next generation of small cars and compact crossovers/SUVs with Suzuki as the latter is best known for its frugal engineering and packaging. Volkswagen's joint venture with Suzuki could help both the brands and also VW's sub-brands, Skoda and Seat.
Volkswagen's small car UP which is expected to be a very low cost city commuter, is already being developed and at this stage VW could do with Suzuki's know-how on cost effective packaging and low cost manufacturing techniques. The next gen Alto could be based on the VW UP but that would definitely not come to India.
What we feel is that, this would pay Volkswagen huge dividends in India where Suzuki has a strong presence and the VW small car could be made by Suzuki and hence guaranteeing its success in India.
Other Suzuki models Volkswagen would be interested in, are the SX4 and the Grand Vitara. The next generation Suzuki SX4 could be used by VW to develop a small crossover which could be used by Volkswagen for the next gen VW Tiguan and Crosspolo, the Audi Q1, the Skoda Yeti successor and the Seat Tribu.
The next generation Grand Vitara could be jointly developed by both the companies and this could form the base for the Volkswagen SUV that could fill the gap between the Tiguan and the Touareg. This could be a Passat SUV and is dubbed the VW416. This platform could also be utilized for the Audi Q3 mini SUV and the upcoming Skoda Bigfoot.
Except for next gen Alto that could be based on the Volkswagen UP, the other cars that are mentioned above would come to India, if the joint-development exercise goes well.
Possible products that could jointly be developed by VW & Suzuki  -
> Volkswagen UP - Next gen Suzuki Alto (only for Europe)
> Next gen Suzuki SX4 Crossover - next gen Volkswagen Tiguan - Audi Q1 - Skoda Yeti next gen
> Next gen Suzuki Grand Vitara - Volkswagen Passat SUV - Audi Q3 - Skoda Bigfoot
Source: Car