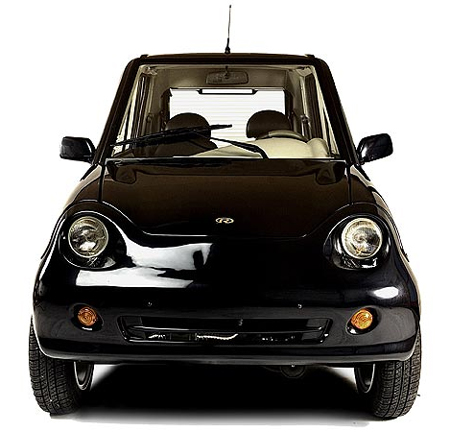 This is what all of us here were waiting for after our brush with electric scooters last year- Lithium Ion technology. Subsequently came news, of Nissan's affordable electric car which would also make use of Lithium Ion units.
Indian car company Maini, which manufactures the Reva (or G-Wiz to our foreign readers) has received it's New Year's gift in the form of a Lithium Ion battery pack. The car has been announced in Europe, but expect it to trickle into India by the end of this year.
Cool Features of Lithium Ion Maini Reva-
The Lithium Ion battery pack gives the Reva a range of 75 miles
Top speed increased to 50 mph.
The Lithium Ion unit also lasts longer and comes with a 3 year warranty.
What's terrific is the battery

needs just 60 minutes to charge to full capacity

.
The battery pack weighs much lesser and will reflect in better acceleration times.
It claims that the car has improved cold weather performance
IAB Comment- This gives you an example of how cars are shaping up for the future.
PRESS RELEASE
REVA announces lithium-ion electric car and fast charge station
Reva Electric Car Company (REVA), the market and technology-leader in the EV (electric vehicle) personal transport segment, announces the European launch of its lithium-ion (li-ion) battery powered EV the REVA L-ion.
Based on the REVAi platform, the latest version of the world's best selling city electric car, the REVA L-ion is the result of more than two years of testing with a range of 120 km (75 miles) per charge and a maximum speed of 80 km (50 miles) per hour.
REVA is also introducing a fast charge station capable of charging the REVA L-ion to 90% in one hour.
REVA's proven EV platform now offers an increased range, faster acceleration, shorter charging time, less energy consumption, improved cold weather performance, maintenance-free battery operation and a longer operating life. REVA has also developed a new proprietary intelligent battery management system for the L-ion that tracks the performance of each cell for uninterrupted performance, which allows a three-year battery warranty to be provided to customers.
Research conducted by Professor Julia King for 2008's King Review of low carbon cars concludes that 93% of car journeys are less than 40 kms (25 miles) and 97% are less than 80 kms (50 miles).
REVA's own data, based on 55 million kms of driving habits by customers in 20 cities worldwide also reflects the nature of every day city driving and the number of short trips, hence REVA's decision to offer this combination of increased range and speed, which extends the REVA's usage to the suburbs and means that up to 95% of all car journeys can be completed without the requirement to recharge.
The new REVA off-board fast charge station uses three-phase power. It is primarily aimed at organisations that require constant vehicle availability during the day and will be offered to purchase or lease. The REVA L-ion's normal full charging time is six hours using ordinary mains electricity, compared to eight hours for the REVAi with lead acid batteries.
"With the REVAi and REVA L-ion, we are now able to offer a choice of performance options to suit commuter needs and preferences. The introduction of fast charge stations really opens up the market to reach new customers and increase the availability of EVs. Local authorities and businesses can now create the charging and parking infrastructure necessary to make zero-emission personal transport an everyday reality," said Chetan Maini, REVA's deputy chairman and chief technology officer.
The REVA L-ion EV and fast charge stations will be available to pre-order from REVA distributors in Norway, UK, France, Cyprus, Greece, Spain, Belgium and Ireland from February 2009, with the first test drive vehicles and customer deliveries commencing May 2009. Customers will have the option of outright purchase or battery leasing, with prices to be announced by the end of January.
REVA's European expansion, under the guidance of Keith Johnston, president of European operations, will continue throughout 2009, with new distributors being sought in all European countries.
REVA is also developing upgrade kits that will enable existing REVAi owners with a lead acid power train to upgrade to the lithium-ion power train later in 2009.