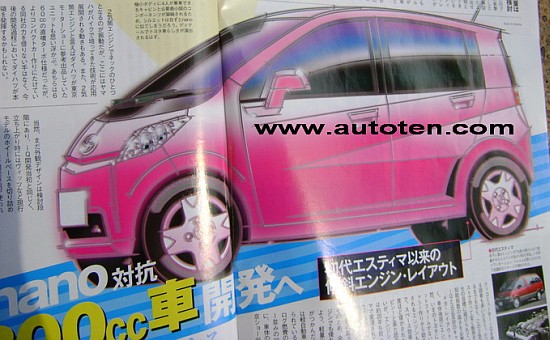 A 800cc Toyota tall boy built to take on the Tata Nano? Is this possible?
A Japanese magazine has published an artist's image of what possibly could be Toyota's answer to costlier variants of the Tata Nano. The car apparently is due in 2012 and will get a 800 CC engine.
Toyota could place this new car under the Etios. Maybe Toyota is gunning for a 2.5 lakh rupee price tag with this tall boy.
At first, we thought of passing this highly speculative story until we read concrete details like layout, engine displacement, dimensions and weight. And we were able to dig up a quote of a senior Toyota official from last year's list of posts.
Dato Akira Okabe, senior managing director and member of the Toyota Motor Corporation board -
We may look at launching more than one compact car model for the (Indian) domestic market. Our current market share in passenger vehicles is 3 per cent. In the next four years, we hope to sell three times our current volumes. And by 2015, our rate of growth will be in double digits.
The magazine reports the new compact will head to India in 2012. It will have a 2-cylinder 800cc engine that will be placed over the rear axle. The dimensions of this car are 3150*1535*1600 (L*W*H)
The weight of the car (we assume kerb weight) will be around 600kg and the fuel efficiency is listed at 30 kmpl!
Is this too good to be true? Can Toyota manufacture a car for 2.5 lakh rupees meeting Toyota's global quality standards?
Source - Autoten