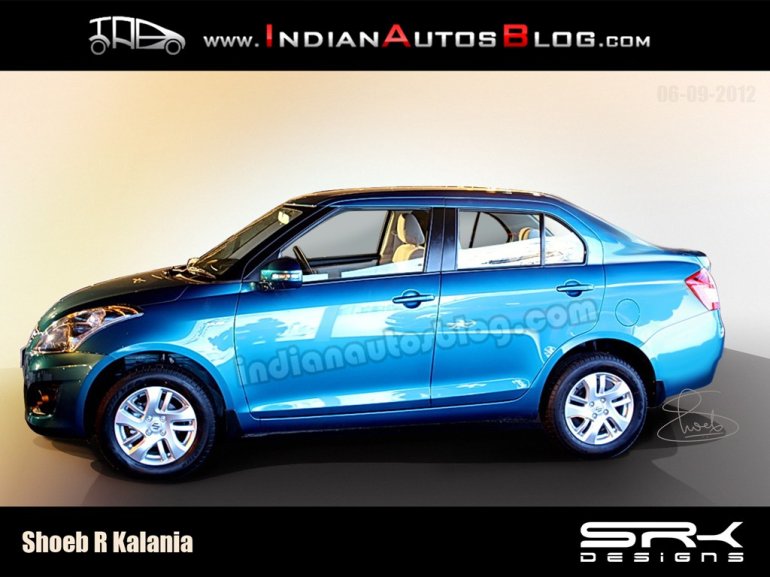 Readers were updated yesterday that the Maruti Swift Dzire has attracted over 65,000 bookings. Maruti has not been able to conduct deliveries over the past few weeks as the manufacturing plant in Manesar was locked down following the death of a manager during a recent employee agitation.
During the shut down, Maruti Suzuki began to offer the Dzire Tour to private buyers. The Tour is the previous generation Dzire relaunched with minimal on-board equipment for tour operators. Maruti applied body colored paint on the bumpers to make it seem attractive to families and from the time sales began, there was no stopping it.
This gave us an idea - if good demand continues to exist for a Swift with a proper boot, then why not work on the new Swift platform to design one? This variant rectifies the Dzire's biggest drawback - limited luggage volume.
The Dzire Tour has dated looks and interior that cannot be upgraded without spending a lot of money. Despite its brisk performance, it is an old product and does not have the legs to complete  another lap. A few new launches in this segment can make the Dzire Tour even older. The aging Tour is an easy target for new launches and it could paint itself into a corner easily.
Maruti need not worry about the the 'proper Dzire' cannibalizing into SX4 sales as even otherwise it is a struggling car in the C segment. In the wake of new launches such as the Rapid, Sunny and Verna, the SX4 has drowned in the noise. There is new hope in the form of the next generation SX4, which is a few years away from the Indian market.
The Swift is perhaps the only mass-market brand that formed a cult, and anything that has its name, turns into a best seller. It isn't only the Swift, the underpinning also shares this trait - the Ertiga - which is a Swift MPV - is a runaway hit in India and Indonesia.
Maruti is constantly crowding segments with multiple offerings and there is no logic to say a big-boot Dzire won't work out - as long as you are selling it a Swift variant, you should be fine!