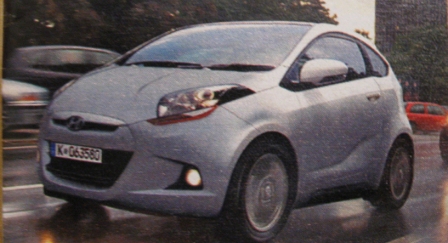 Hyundai has for the past few years been quietly working on a hatchback that will be placed under the Santro to fulfill the growing needs of developing countries such as India. Autobild has re-created the car on a photo editor, and it doesn't look all that bad.
Last September, H.S.Lheem, managing director & CEO of Hyundai operations in India confirmed the car is jointly developed by the engineers in Namyang, Korea and Hyderabad, India. He also mentioned the car will be built at the Chennai facility where the i10, i20 are presently manufactured and shipped to 100 or more countries.
i0 with a 'Nano' theme
This car could carry the 'i0' badge. Its diminutive dimensions and smooth design will be complemented by a 800cc sub-60hp engine that will deliver big on fuel economy. Though the artist's illustration show only 2 doors, the actual car might have a 4-door variant.