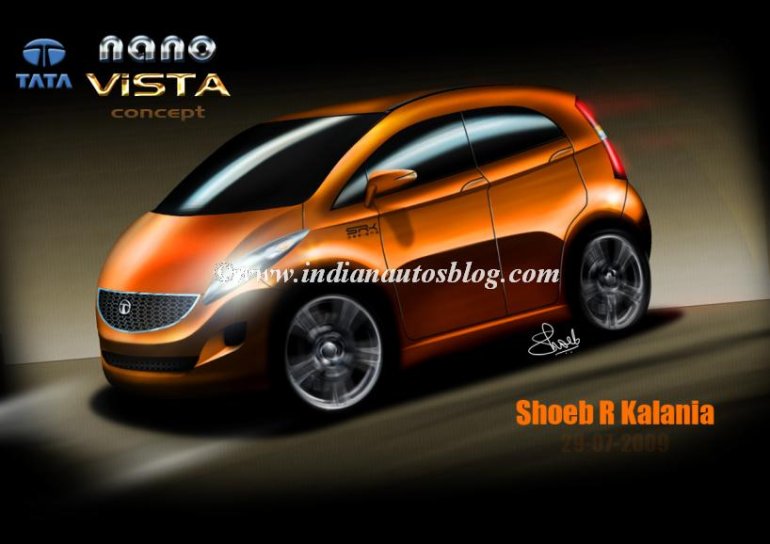 The Indica Vista is bigger than the regular car, the Indigo Vista is expected to be bigger than the Indigo. The Grande sits on an elongated Sumo chassis. This naturally means the expanded Nano, would tuck in between the Nano and the Indica and cost accordingly.
Photoshop whiz kid SRK, is quick to learn this. He's used cues from the Nano, Indica and the Indica Vista to draw a car, which could ply the Indian streets (and the world, considering Tata's new found fondness to go international) in the future.
SRK's even written about the tech specs of the car, providing an idea or two by deriving information from the existing models and the company's tradition. He claims Tata could employ an electric or hybrid powertrain to hussle it along.
Heck, this could even be Fiat's low-cost car using the Nano's platform, couldn't it?
DESIGN REPORT:
Features:
800cc 45hp 3 cylinder engine.
Front engine front wheel drive.
5 speed manual gearbox.
Rack & Pinion type steering.
Front Disc, and rear drum brakes.
Independent wheel suspension.
Design:
The exterior of the car is designed keeping the profile similar to the NANO. Considering the majority have accepted the Nano's design, its styling could be carried over to future products.
Various components from the NANO could be directly used (e.g: Outside rear view mirrors, interior accessories like steering wheel, dashboard design, front seats).  This would lower the manufacturing cost and development time.
Competition:
Ford's small car
Maruti Alto
Hyundai Santro
Chevrolet Spark
Marketing possibility:
- The NANO Vista, if engineered perfectly, could also replace the existing Indica series.
- The Indica/Indigo models would then be available only as Vista Series.