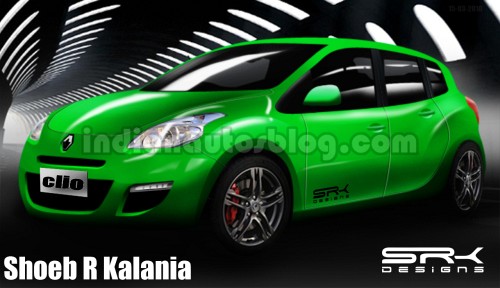 Renault is all set for a new innings in the Indian market. Its Joint Venture with M&M has not really worked out with the Logan selling only 1/10th of the number of units that was initially planned per month. The Logan might be upgraded with a new sub 1.2litre engine along with an under 4m length & relaunched with a lower price tag but beyond that, there would be no car coming from this JV.
Renault will take on the Indian market independently. It will set up a dedicated distribution network and will be bringing a brand new portfolio of contemporary products. The Fluence sedan that was showcased at the Delhi Auto Expo will be targeted at the Honda Civic customer and the Koleos SUV will take on the Toyota Fortuner.
But more importantly it will bring the small car-Clio into the Indian market. The next gen Clio which would make its international debut in 2012, is based on Nissan's V platform, the same one that is used by the Micra. This would be an advantage for Renault as it would get a ready-made base for the car thus saving costs.
Platform sharing has always been an advantage for companies as it saves costs. Giants like GM,Ford,VW have raked in millions owing to this technique. Nissan & Renault sell products of the same segment in the global market & have had a success as both the companies maintain their own DNAs.
The Clio's leaked images indicate that it looks better than the Micra & has a fresh & modern look to it. The Clio gets a wide range of engines-a 3 cylinder 1.1-liter diesel, a 4 cylinder 1.2 lire petrol, a 1.5litre diesel, a 1.4 and 1.6lire petrol.
In India the car is expected to have a sub 1.2 litre petrol and a 1.5litre diesel, the same ones as on the Micra. The car would be made at Renault-Nissan's spanking new plant in Chennai. Although it is not very clear if it will be exported from India as well.
The Clio won't reach the Indian market before 2013.
2012 Renault Clio Hi-res Image