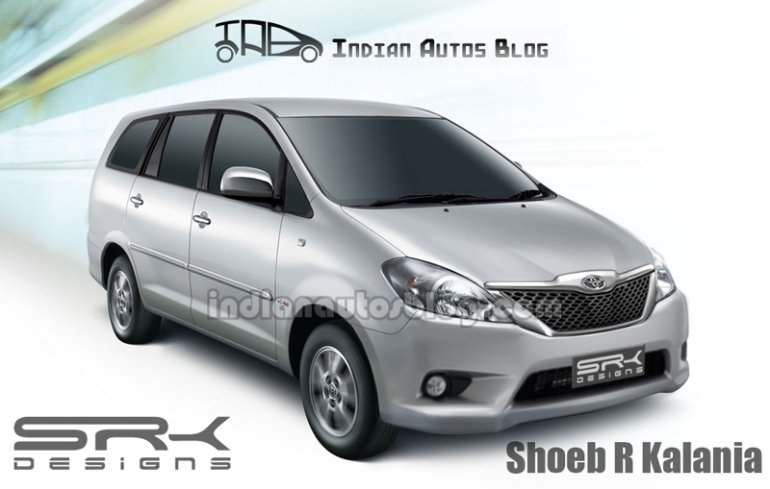 By Shoeb R Kalania
The Toyota Innova has been a very successful product and almost all customers are very satisfied with it. Even with growing competition, Innova is still a winner and preferred by people having large families.
With many new products emerging from competitors in this segment, Toyota, according to Autocar India, has felt a need to revamp the Innova and provide a better experience to the customer.
According to the feedback, the new Innova needn't be bigger in size and will sport only minimal changes. The following is our take on what the Innova needs to sustain in the crowding competition.
1) New front: The front end design will undergo some changes to make the product look new and modern.
A new grill and a bumper would be designed to make the car look fresh, also minimal changes to the bonnet lines will take place.
The light assembly would get a fresh look too. The fenders would be made to look more flared hence lending a car a macho look.
2) New Rear: The rear would sport a new bumper with flared fenders again.
The light assembly might be changed to make the rear look more SUVish than the current Van-like of look by providing two-split assemblies. May be the engineers might decide to provide better space for 3rd row passengers by playing around with the seat locations.
3) New Interior: The new Innova may get dual tone interiors with color combination like brown and beige.
The 3rd row seats can also be pushed back by a few cm to provide better comfort for passengers which would eventually compromise some luggage space. The dashboard might get a new look and probably do digital.
Also there would be provision for steering-mounted audio controls and Bluetooth facility with complete Entertainment system that can be connected to iPods or USB Sticks.
The top-end model might have an option of a Navigation system too.
4) Technical: Technically the car would be the same but the engineers might make it less noisy & vibration free.
Option for an Automatic Transmission will also be on the cards and might soon hit the showrooms. The suspension would be refined to give a plush ride.
All-in-all the new Toyota Innova would be able to compete with its new competitors (Chevrolet Hong Guang, Nissan NV200, Mahindra, Tata, Ford, etc.) that are slated to hit the market soon