Renault India have launched a special edition on the Pulse called the Voyage Edition. After taking a look at the company's website, this is what we figured.
The Voyage edition has no exterior updates in any form. So do not expect any new body colors, body graphics, new alloy wheel patterns, or so on. Inside, Renault will offer a touchscreen multimedia system which doubles up as a navigation system, and the speakers are from FOCAL. The website also claims that a Pulse Voyage accessory pack (worth INR 58,000) will be offered.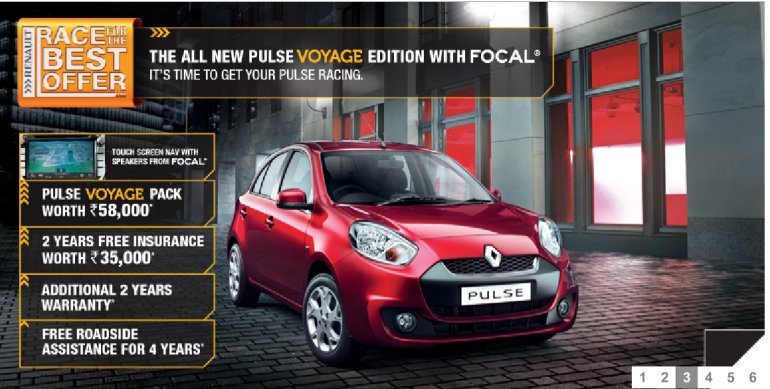 That sums up the feature additions on this special edition. However, Renault is also offering free insurance for two years, a two year extended warranty, and roadside assistance for four years with this special edition.
Mechanically, the Pulse continues unchanged and is offered with a choice of a petrol and a diesel engine. The petrol motor is a three-cylinder, 1.2-liter outputting 76 PS and 104 Nm, while the diesel variant is powered by a 1.5-liter four-cylinder engine producing 64 PS and 160 Nm of torque.
Renault India have not witnessed pulsating sales for this car. A major reason for this is because the Pulse is nothing but a Nissan Micra with a more expensive price tag.