Over 200,000 units of the Renault Captur have been produced at Renault's Valladolid plant in Spain. The Captur, which was announced in January last year, entered production a month later and quickly became a sales success. In fact, Renault celebrated the rollout of the 100,000th Captur only in December last year.
In fact, Renault are buoyed by the quick success of the Captur that they have announced a third shift at the Spanish plant beginning this October. This will also create about 450 jobs. In one shift, Renault make about 350 units of the crossover a day. The Spanish plant also makes the Captur in its Samsung avatar (the car is sold as the Renault Samsung QM3) for exports to South Korea.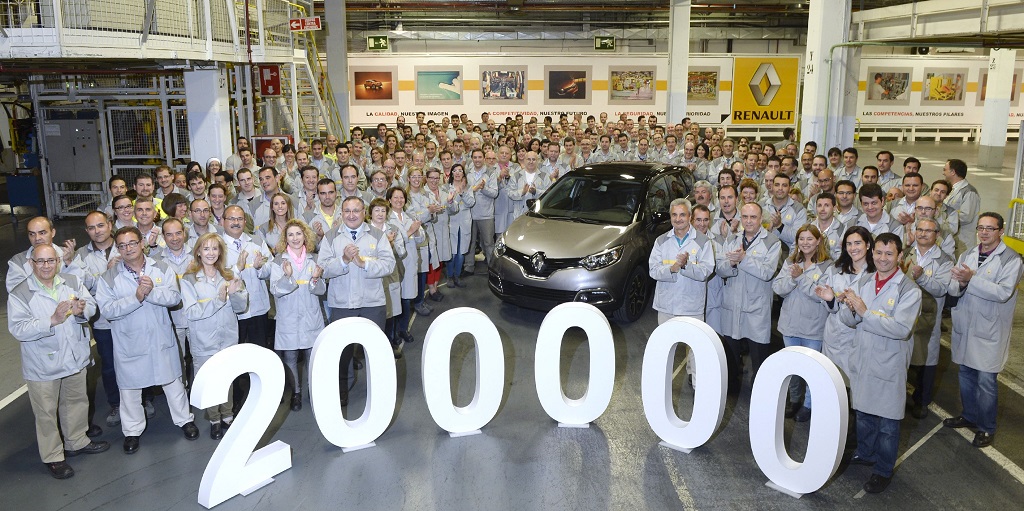 The 200,000th Captur gets a dual-tone paintjob with a contrasting black roof and is intended for a French customer. It is powered by the 1.5-liter dCi diesel engine producing 90 hp and matched to a 6-speed dual-clutch gearbox. The diesel engine produces 90 hp and 220 Nm of torque, and also comes with a 5-speed manual transmission.
The Captur petrol variants are powered by a 0.9-liter turbocharged engine and a 1.2-liter turbocharged engine. The 0.9-liter three-cylinder produces 90 hp and 135 Nm of torque, and comes with a 5-speed manual, and the 1.2-liter four-cylinder makes 120 hp and 190 Nm of torque and gets a 6-speed dual-clutch.
Renault have no plans to launch the Captur in India, as that segment is represented by the Duster.