Images of the Porsche Macan that will feature in an upcoming issue of German car magazine, Auto Motor Und Sport, have leaked on the internet.
When viewed head on, the Macan looks a lot like the larger Cayenne. However, its partly based on the Audi Q5 platform and sports the exact same wheelbase at 2,807mm.
The magazine has also published an image comparing it to the Audi Q5 and you get a general idea of the Macan's length. Here are some excerpts from Auto Motor Und Sport's review:
The Macan doesn't appear to be much smaller than its bigger brother, the Cayenne.
With 340 PS and 400 PS V6 engines, the Macan gets an electromechanical AWD system.
The seating position for the driver is pretty high, and the steering wheel is inspired by the 918 Spyder. Overall, a very sporty cockpit, but there are too many buttons.
The rear seat is pretty narrow. The headroom is tight and the reviewer does not recommend it for large families.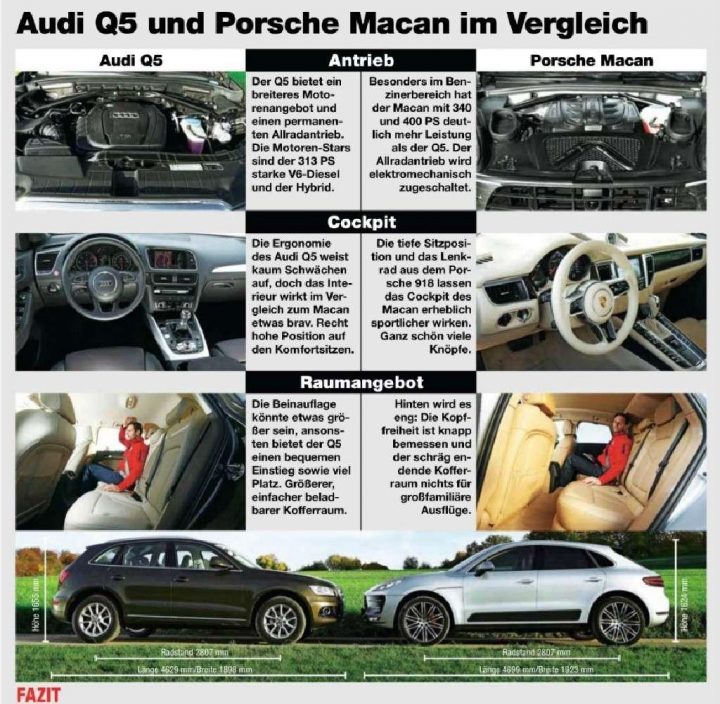 Check out our previous coverage on the Porsche Macan
The Macan will world premiere at the 2013 Los Angeles Auto Show which has its first media day on November 20th. Production of the Macan will commence in December this year, while the first deliveries could take place early next year. In the USA, the Macan would have a starting price of USD 52,000 (INR 31.9 lakhs).
Porsche Macan Image Gallery
[Images from Macan Owners Club]
[Source - Auto Motor Und Sport]